Blood Pressure & Heart Failure: What's the Relation?
Understanding BP And Heart Failure
The heart is responsible for pumping blood throughout the body. Blood pressure (BP) is the force exerted by the blood pushing against the inside wall of the arteries. When the heart beats faster, the blood pressure increases. If the heart isn't beating fast enough, then the blood pressure drops.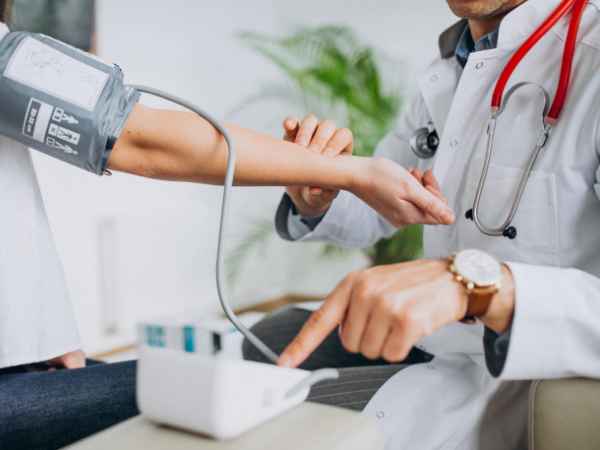 When the heart pumps out blood, it pushes on the artery walls. As the artery walls stretch, they get thinner. Over time, these thinned-out walls become weak and may even rupture. When the walls do rupture, the contents of the blood vessel leak out. This is hemorrhage. Hemorrhages can happen anywhere in the body, including in the brain. A person who experiences a stroke (a type of hemorrhage) might not have any symptoms at first. However, over time, he/she could experience weakness, numbness, trouble speaking, vision problems, and dizziness.
A high BP reading is defined as 140/90 mmHg or greater. Normal BP is considered 120/80 mmHg. However, there are three categories of BP: Normal, High, and Very High. These ranges are shown in the table below:
 Category Systolic Diastolic

 Normal ≤120/80 ≤140/90

 High 130–160/100–110

 Very High ≥170/110
High BP (hypertension)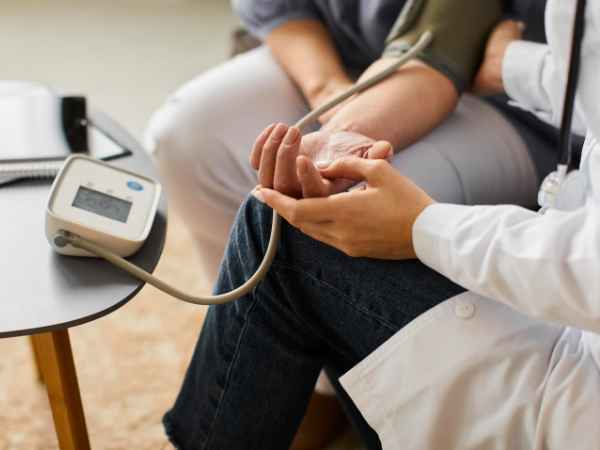 High blood pressure occurs when the force exerted by the blood flowing through the arteries exceeds the capacity of the arterial wall to resist it. As a result, the artery becomes stretched and damaged. When damage occurs, the body's natural repair mechanisms attempt to heal the area, but they may not always succeed. If the injury is severe enough, the artery wall ruptures, causing bleeding into the surrounding tissue. Blood clots may then develop at the site of rupture, blocking off the flow of blood to the heart muscle. In addition, high bp increases the risk of stroke, heart attack, kidney disease, and vision problems.
Low BP (hypotension)
Low bp occurs when the amount of blood pumped out of the left ventricle of the heart is less than what is needed to keep the organs perfused. Symptoms of low bp include dizziness, fainting, headache, nausea, vomiting, weakness, cold hands and feet, confusion, blurred vision, slurred speech, and loss of consciousness. Severe cases of hypotension can lead to shock, coma, and death.
What Causes BP?
There are three main reasons why your BP may increase. First, if you have high cholesterol, then the buildup of plaque along the inner wall of your arteries could cause them to narrow, making it harder for blood to flow smoothly. Second, if you smoke cigarettes, then nicotine constricts the blood vessels, causing them to become narrower. Third, stress can raise blood pressure by increasing adrenaline levels, which causes the muscles around the arteries to contract and tighten, restricting blood flow.
Symptoms of BP
Symptoms of high bp vary depending on the type of high bp. If your blood pressure is normal, then you probably won't notice any symptoms. However, if your blood pressure rises, you may experience headaches, dizziness, chest pain, shortness of breath, fatigue, nausea, vision changes, irregular heartbeat, leg cramps, fainting, or palpitations.
How Many Levels of BP Exist?
Your blood pressure level can vary widely depending on your health conditions. There are five categories of bp: normal, prehypertension, stage 1 hypertension, stage 2 hypertension, and severe hypertension. Normal bp is 120/80 mm Hg. Prehypertension is having a blood pressure of 130/85 to 139/89 mm Hg. Stage 1 hypertension is 140/90 to 159/99 mm Hg. Stage 2 hypertension is 160/100 to 179/109 mm Hg. Severe hypertension is 180/110 or greater.
How to Control BP?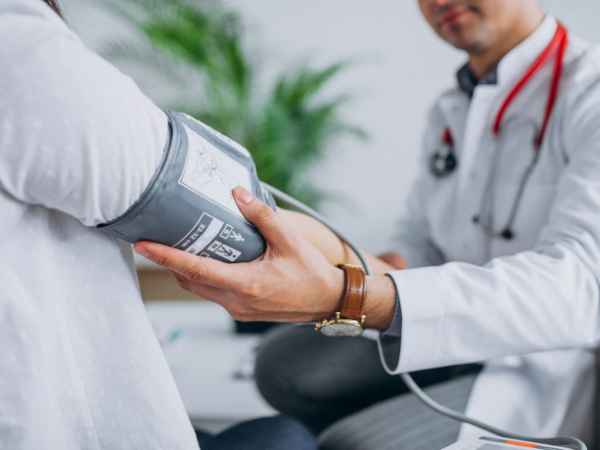 Many doctors recommend lifestyle changes such as reducing sodium intake and increasing water intake, eating a healthy diet, exercising regularly, stopping smoking, losing weight if overweight, and avoiding excessive amounts of caffeine and alcohol. These recommendations apply to all patients with hypertension regardless of whether or not they take any medication. However, research shows that some drugs can be very effective in controlling BP. 
Beta-blockers (such as propranolol), calcium channel blockers (amlodipine), angiotensin-converting enzyme inhibitors (enalapril), and angiotensin II receptor blockers (losartan) are among the most common medications prescribed today. More recently developed agents include direct renin inhibitor aliskiren and potassium-sparing diuretics such as amiloride and triamterene. Among these classes of drugs, beta-blockers remain the best choice for treating mild hypertension. Calcium channel blockers offer another alternative for those who cannot tolerate beta blockers. Angiotensin-converting enzyme (ACE) inhibitors also commonly treat hypertension, especially in patients with diabetes, atherosclerosis, or coronary artery disease. Angiotensin II receptor blocker is also beneficial in hypertensive patients with diabetes mellitus or chronic renal insufficiency.
In addition, certain foods can reduce BP. Omega-3 fatty acids found in oily fish and flaxseed oil seem to protect against stroke, improve cardiovascular risk profile, and regulate fluid balance. Dietary fiber helps decrease cholesterol and low-density lipoprotein ("bad" cholesterol) levels. Fruits, vegetables, whole grains, legumes, nuts, and olive oil should be included in daily meals. Reducing saturated fat, trans fats, and added sugars lowers bad cholesterol and improve insulin resistance. Aspirin decrease the incidence of myocardial infarctions in persons aged 65 and older. Exercise is proven to prevent hypertension, heart disease, strokes, osteoarthritis, type 2 diabetes, depression, and obesity. Regular physical activities reduce the blood pressure of those who do not get enough exercise.
Does BP Rise With Age?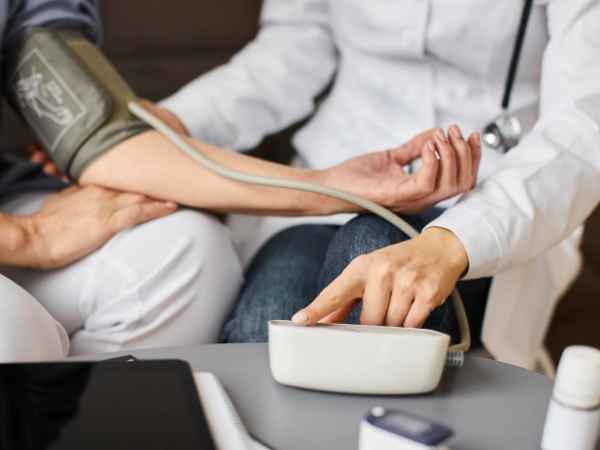 Yes, but only slightly. As you get older, your blood pressure tends to go up slowly over time. However, some people experience rapid increases in their blood pressure after middle age. This condition is secondary hypertension. Secondary hypertension occurs when someone has another medical problem that contributes to increased blood pressure. For instance, kidney problems can lead to kidney damage and scarring, which can restrict the flow of urine out of the kidneys. When this happens, the blood becomes concentrated in the veins and arteries, raising blood pressure. Other common causes of secondary hypertension include thyroid disorders, adrenal gland tumors, Cushing syndrome, pheochromocytoma, and pregnancy.
Preventing high BP requires changing unhealthy habits and maintaining a healthy lifestyle. These steps include eating a balanced diet rich in fruits and vegetables; exercising regularly; not drinking alcohol excessively; avoiding tobacco products; managing stress effectively; controlling body weight, and monitoring bp levels.
Final Takeaway
How many levels of blood pressure there are?
There are four levels of blood pressure: normotensive, prehypertension, stage 1 hypertension, and stage 2 hypertension. Normotensive means having a normal BP level. Prehypertension is a condition in which blood pressure is above 120/80 but below 140/90. Stage 1 hypertension is a state in which blood pressure is greater than 140/90 but less than 160/100. Stage 2 hypertension is when blood pressure is over 160/100.
How to control blood pressure?
To lower blood pressure, one must reduce salt intake, exercise regularly, eat a healthy diet, avoid smoking, limit alcohol consumption, maintain a healthy weight, and take prescribed medications if needed.
Does blood pressure rise with age?
Yes, blood pressure does increase with age. However, the rate of increase varies among individuals. Some people experience little change in their blood pressure throughout life, whereas others may develop high blood pressure later in life.