Fibroids In Uterus: Discover All The Warning Signs!
Discover the Truth About Fibroids in Uterus Today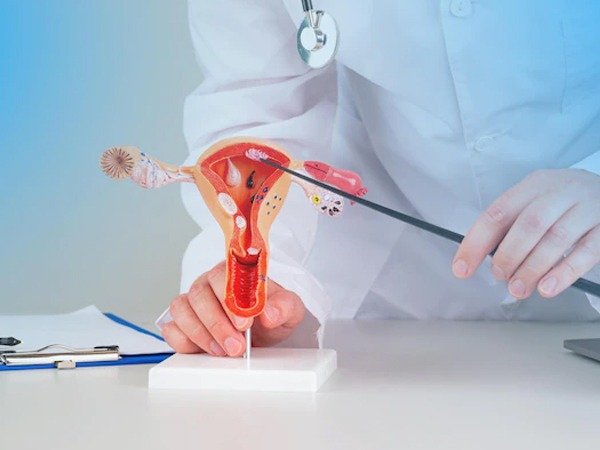 Fibroids in the uterus are benign tumors that occur inside the uterus. The uterus is a muscular organ located in the pelvis between the bladder and the rectum. It is responsible for storing and releasing eggs throughout pregnancy and after childbirth. A fibroid tumor is a benign (non-cancerous) mass of cells that grows inside the wall of the uterus. These tumors may cause heavy bleeding, pain, pressure, or discomfort. If left untreated, they could lead to infertility.
Women who have fibroids typically do not experience any symptoms until those tumors begin to get bigger. If left untreated, fibroids may lead to complications such as uterine rupture, hysterectomy, and even death. Therefore, it's critical that women seek medical consultation immediately once they start experiencing abnormal bleeding, abdominal discomfort, pelvic pressure or cramps, or difficulty in having sexual intercourse.
Causes Of Fibroids In the Uterus
Uterine fibroids develop due to hormonal changes caused by pregnancy, menopause, birth control pills, and hormone replacement therapy. Hormone levels increase during puberty, pregnancy, and menopause. When these hormones rise, the body produces excess estrogen and progesterone. Estrogen causes the endometrium (lining of the uterus) to thicken and become thicker than normal. Progesterone stimulates the production of mucin, a substance that helps protect the lining of the uterus. As the lining thickens, it becomes less elastic and begins to bulge outward. This creates a pocket where blood vessels and nerves grow. Over time, these pockets enlarge and create fibroids.
Diagnosis of Uterine Fibroid
A doctor will perform a physical examination to determine whether a patient has uterine fibroids and what kind of treatment plan should be implemented. An ultrasound exam will reveal the size and location of the tumor, while a biopsy will help confirm the diagnosis.
Symptoms Of Fibroids Include: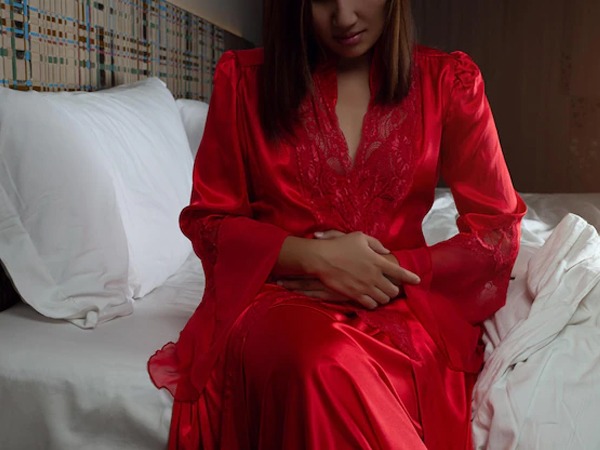 Heavy menstrual flow and blood clots
Unexplained vaginal spotting
Painful sex
Back pains (due to enlarged uterus)
Infertility
Abdominal bloating
Fatigue
Pelvic Pressure/Cramps
Tiredness
Treatment Options For Fibroids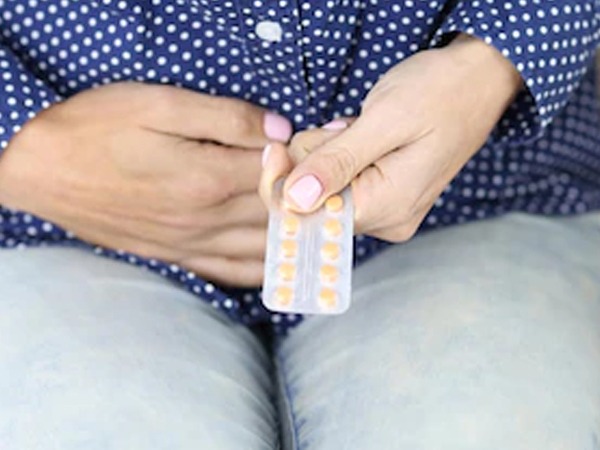 Treatment options for uterine fibroids depend on their size and location, how severe the symptoms are, and whether fertility issues exist. Your doctor might recommend a hysterectomy if the fibroids are causing serious complications. Hysterectomy involves removing the entire uterus. However, some women choose not to have surgery because they want to preserve their reproductive organs. Instead, they opt for myomectomy, a procedure that removes only the affected area of the uterus. Myomectomy is often performed laparoscopically, which means it's done using small incisions instead of cutting open the abdomen.
In many cases, fibroids don't need treatment. However, fibroids and their symptoms should not be ignored. You can try lifestyle adjustments, including changing your eating habits and avoiding alcohol intake. Also, avoid using tobacco products, caffeine, and spicy foods that irritate the digestive tract. Your doctor may consider medication to reduce the size of fibroids and relieve symptoms before surgery. Treatment options include:
Nonsteroidal anti-inflammatory drugs (NSAIDs), low-dose aspirin, herbal remedies, and fish oil supplements — These help prevent fibroid growth and shrink existing ones.
Drugs that inhibit prostaglandin production — Prostaglandins are substances produced naturally by cells lining the uterus that promote its growth. One type of drug inhibits the synthesis of prostaglandins.
Hysterectomy — This procedure surgically removes the entire uterus and sometimes parts of the vagina. Depending on the location of the fibroids, a hysterectomy may eliminate symptoms without removing the fibroids.
Laparoscopic myomectomy — Doctors remove fibroids laparoscopically if they're small enough and located away from the reproductive organs. Myomectomy involves making several incisions in the abdomen and removing the fibroids via tools inserted through the openings.
Uterine artery embolization — An injection of vasoconstrictors blocks the arteries that supply oxygenated blood to the uterine fibroids. As a result, the fibroids starve and die. Embolization reduces fibroid volume but doesn't destroy them completely.
Diet And Nutrition For Fibroids
A diet rich in whole grains, fruits, vegetables, lean protein, and low-fat dairy products may help lower your risk of uterine fibroid. Fiber supplements may also help decrease the amount of fluid retained in the uterus.
Home Remedies For Fibroids
Home remedies for uterine fibroid include eating foods high in fiber, drinking plenty of water, avoiding caffeine, and exercising regularly. You should also try natural treatments including herbs, vitamins, and homeopathic remedies.
As the fibroids in the uterus do not pose any threat to the woman's life. In some cases, they may even reduce the size of the womb. Therefore, women who want to conceive should try home remedies for fibroids before opting for surgery. There are various home remedies for fibroids that treat the condition without surgery. Here's how you can make use of them:
Fenugreek tea — Take 1 tablespoon of fenugreek seeds daily. Grind the seeds to a fine paste and add water. Boil the mixture until it reduces to half its original volume. Strain out the solids and drink the liquid three times per day.
Apple cider vinegar — Mix two teaspoons of apple cider vinegar in a cup of warm water. Drink twice daily. You can also eat raw apples with the skin along with honey after each meal.
Black seed oil — Add 10 drops of black seed oil to an equal quantity of coconut oil. Apply topically twice daily.
Garlic — Crush four garlic cloves and mix well with a few tablespoons of castor oil. Apply topically once daily.
Ginger — Make a strong ginger juice and apply it topically regularly.
Green leafy vegetables — Eat green leafy vegetables like spinach, kale, mustard greens, bok choy, broccoli, collard greens, turnip greens, beet greens, and others.
Fennel seeds — Dry roast 1 teaspoon of fennel seeds till lightly brown. Powder the seeds using a coffee mill. Add a pinch of salt and take 4 teaspoons of it twice daily.
Milk thistle — Consume milk thistle capsules twice daily.
Pomegranate — Drink pomegranate juice daily.
Flaxseed oil — Have flaxseeds along with wheat germ oil. Use 1/2 tsp of flaxseed oil and 1/4th tsp of wheat germ oil together. Massage it on your abdomen.
Saw palmetto berries— Grind saw palmetto berries, mix them with coconut oil, and massage them onto the abdominal area.
Risk Factors of Uterine Fibroid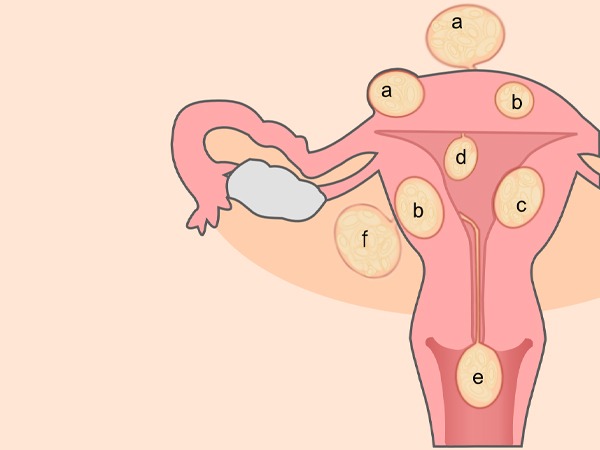 There are many risk factors associated with developing uterine fibroids. One of the most significant risk factors is having a family history of the disease. Other risk factors include the below mentioned:
Age: Uterine fibroids are non-cancerous tumors that occur inside the uterus (womb). These benign tumors appear after menopause and may cause heavy menstrual bleeding. The condition occurs in about half of women over 50 years old, and many symptoms are related to the size and location of these growths. A woman's risk increases if she has had previous uterine surgery or a history of infertility. Other factors that increase a woman's likelihood of having fibroids include obesity, family history, certain genetic conditions, early childbirth, smoking, and alcohol use.
Diet: A diet high in calories and low in fiber and iron can lead to fibroids. One study suggested that eating whole grains lowers the risk of fibroids. However, research shows that diets high in red meat and processed foods raise the risk.
Hormone Therapy: Women who take estrogen replacement therapy (ERT) drugs have a greater chance of getting fibroids. Most ERT medications work by stimulating ovulation. Estrogen levels decline naturally at menopause, leaving women without enough estrogen to protect their endometrial lining. In addition, some medicines prescribed for chronic medical problems, including diabetes and heart disease, can lower a woman's estrogen level.
Obesity: Obese women are at a significantly higher risk for fibroids. Excess weight puts extra pressure on the abdominal cavity, causing swelling. As the uterus grows, it pushes outward, increasing its potential to develop fibroids.
Family History: Family members who have gotten fibroids before they reached middle age are more likely to get them again later in life. Having a mother or sister with fibroids increases a woman's risk.
Infertility: Infertile couples are twice as likely to develop fibroids as fertile couples. This could be due to hormonal changes caused by not being able to conceive.
Prevention Tips For Fibroids
There are no proven ways to prevent uterine fibroids. However, there are steps you can take to reduce your risk of developing them. Avoid taking birth control pills. Birth control pills raise estrogen levels, which increases the chances of developing fibroids. Also avoid hormone replacement therapy, especially if you already have fibroids. Hormone replacement therapy raises both estrogen and progesterone levels.
Final words,
In the uterus, fibroids develop as benign tumors. These tumors may cause pain and pressure in the abdomen, back, pelvis, or thighs. In some cases, they may cause infertility. Consult your doctor immediately if you experience any of these symptoms. You can get treatment for fibroids at home as well.