Groin Pain: Everything You Need To Know
Introduction of Groin Pain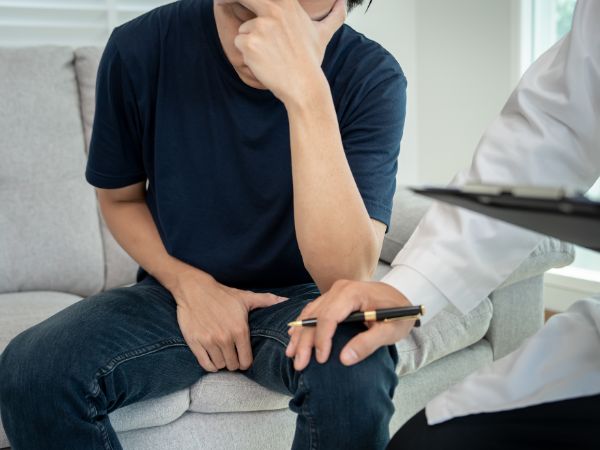 Groin pain may be a great agony when every step you take reminds you of how uncomfortable you are. Your groin is a complicated region that connects your abdomen to your legs. Though muscular discomfort is a frequent complaint, the extensive network of muscles, bones, nerves, and blood vessels can make pinpointing the reason for groin pain particularly complex. In this blog, we are going to discuss all the necessary details about groin pain. Therefore, if you are someone who wants to gain knowledge regarding groin pain then this article may be very informative to you.
What is Groin Pain?
The groin is the part of the pelvic and thigh joint where the stomach ends. The leg part starts from this place. The pain at this place is different from the pain in the scrotum. However, this pain sometimes reaches the groin. There are some reasons due to why pain occurs in the groin. When people experience pain in their lower abdomen, where the leg meets the pelvis, they often mistake it for back pain. Muscle strain is the most common cause of back pain in adults. Other conditions include a hernia, kidney stones, or in men or with specific veins in or around the hip or scrotum. Your doctor will usually perform a comprehensive physical examination to determine the cause of your back pain and may order blood and imaging tests if needed.
Understanding Muscle Strain
A muscle strain, also known as a pulled muscle, happens when your muscle is overstretched or torn. This is frequently caused by muscular exhaustion, overuse, or inappropriate usage. Strains can occur in any muscle, although they are most prevalent in the lower back, neck, shoulder, and hamstring (the muscle below your leg). These strains can be painful and restrict mobility in the afflicted muscle area. Mild to severe strains can be treated at home successfully using ice, heat, and anti-inflammatory drugs. Severe strains or rips may necessitate medical attention.
Cause For Groin Pain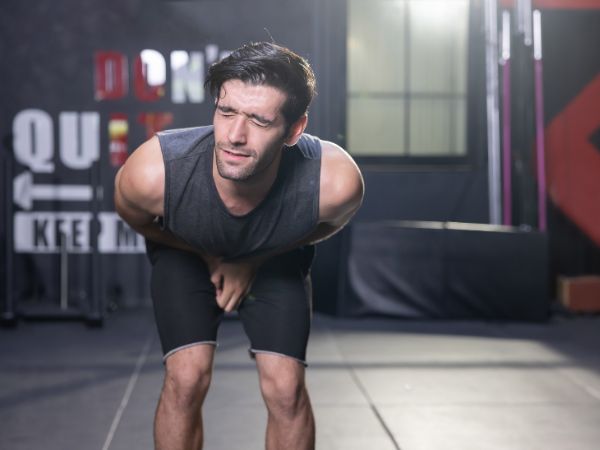 Kidney Stones –

Different forms of kidney stones occur in a person's kidneys depending on the types of food an individual consumes and the amount of fluids/ liquids consumed. They are caused by the buildup of specific minerals in the kidneys rather than being flushed out by urine. Kidney stones can cause excruciating discomfort in the lower back and groin. When passing pee, the sufferer may experience excruciating agony. 

Hernia-

A hernia happens when the portion of your internal organs protrudes through a hole or weakening in the muscle or tissue that houses them. The majority of hernias involve one of your abdominal organs pressing through one of your abdominal cavity's walls. Hernias can develop gradually as you age and the daily wear and stress on your muscles adds up. This problem can caused by an injury, surgery, or a congenital defect.

Osteoarthritis:

Osteoarthritis is a type of arthritis in which the flexibility of the tissues present in the bones decreases. In this disease, the cartilage of the bone joints wears out and the lubrication in them starts decreasing. Generally, this disease is more likely to occur in middle-aged people i.e. people aged 40 to 50 or older. But in urban life, this disease is also visible in youth and children. Symptoms like pain in joints, curvature of joints, and impaired gait, i.e. reduced ability to walk are seen in this disease. 
Symptoms of Groin Pain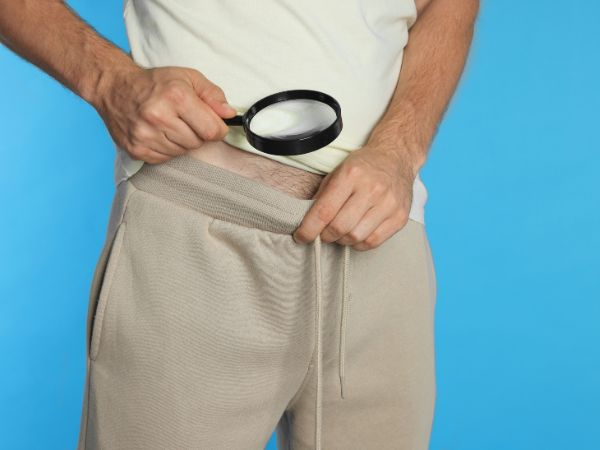 Pain or discomfort:

Individuals with GP frequently report localized pain or discomfort in the groin region. Movement, such as walking or running, may aggravate the discomfort.

Swelling or lumps:

GP may be accompanied by swelling or the appearance of lumps in the groin region in some circumstances. These lumps might be hernias or enlarged lymph nodes.

Limited mobility:

GP can make it difficult for a person to accomplish daily activities that require the use of the lower body, such as bending, lifting, or walking.

Bruising or skin discoloration:

Traumatic injuries to the groin region can cause bruising or skin discoloration. This might indicate internal bleeding or tissue injury.

Radiating pain:

GP can cause pain to spread to other parts of the body, such as the lower abdomen, inner thigh, or genitals. The discomfort might be intermittent or continuous.
Treatment and Care For Groin Pain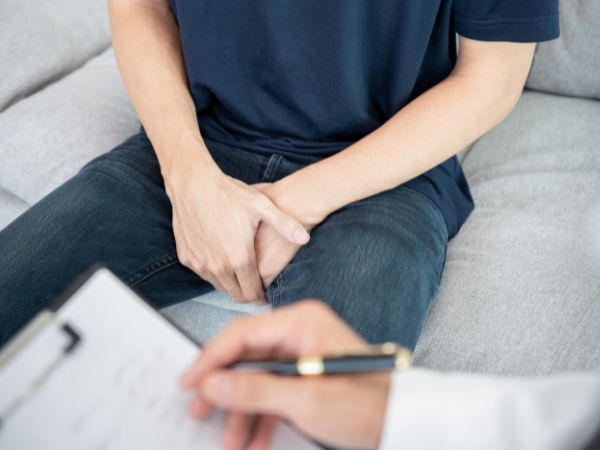 Treatment is recommended by healthcare specialists based on the reason for your groin discomfort. When a muscular strain is the reason, conservative treatments such as rest can typically alleviate the pain. Other reasons, on the other hand, may necessitate more extensive treatment approaches.
Treatment options for the reasons of primary groin pain include:
Applying cold to the painful region.

Physical therapy (a professional physical therapist can assist you in increasing your strength and range of motion).

Pain relievers (such as NSAIDs or acetaminophen).

Surgery.
Secondary groin pain treatment options include:
Medication for pain

Nerve constrictions

Surgery
When Should You Consult a Doctor About Groin Pain?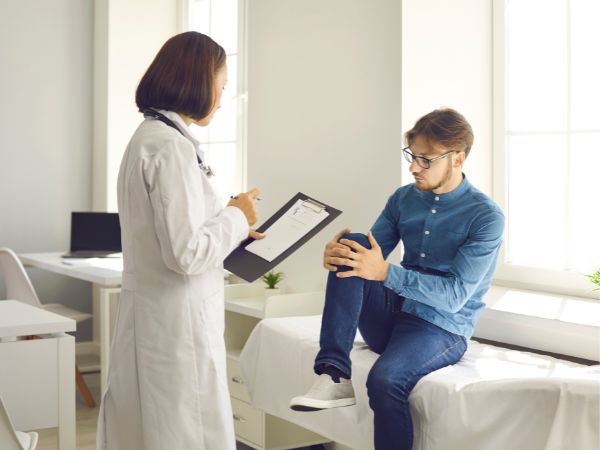 While moderate groin pain can easily be treated at home, it is critical to seek medical help if:
The discomfort intensifies or lingers over time.
The presence of lumps or substantial swelling in the groin region.
Fever, nausea, or vomiting may accompany GP.
The discomfort is the outcome of a catastrophic injury or accident.
Urination is difficult or there is blood in the pee.
Groin Pain in Male and Female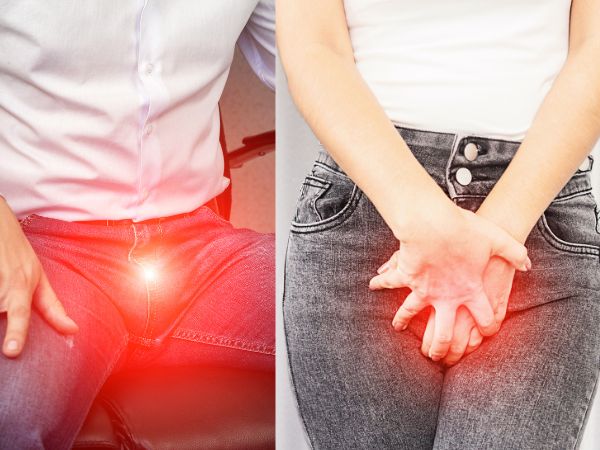 Groin pain can affect both males and females, although the causes and manifestations may differ between the sexes. In males, common sources of groin pain include groin strains, hernias, testicular issues, and prostate problems. Groin strains often result from overexertion during physical activity, while hernias occur when abdominal tissues push through weakened muscles in the groin. Testicular pain can be caused by issues like torsion or epididymitis, and prostate-related conditions may lead to referred pain in the groin area.
In females, groin pain is frequently associated with conditions such as ovarian cysts, pelvic inflammatory disease (PID), endometriosis, and inguinal hernias. Ovarian cysts may cause sharp, intermittent pain, while PID and endometriosis can result in chronic pelvic discomfort that may radiate to the groin. Inguinal hernias, though more common in males, can also occur in females.
Both males and females may experience groin pain due to muscle strains, ligament injuries, or hip joint problems. Regardless of gender, it's crucial to seek medical evaluation and care when experiencing persistent or severe groin pain, as the underlying causes and treatments can vary significantly between individuals.
Conclusion
Groin discomfort is a frequent and diverse medical problem that can be caused by a variety of factors. Strains, sports injuries, hernias, and even underlying medical disorders are common causes. For successful management, timely diagnosis and therapy are required. Rest, physical therapy, and anti-inflammatory drugs can help with moderate instances, but more severe or chronic pain may necessitate surgery. Individuals suffering from groin pain should seek expert medical treatment immediately, as neglecting or mismanaging the disease may result in persistent discomfort and limits in everyday activities. Understanding the underlying reason and adhering to a specific treatment plan is critical in relieving groin pain.
Also, Read: