Inguinal Hernia Surgery: A Comprehensive Guide!
Introduction to Inguinal Hernia Surgery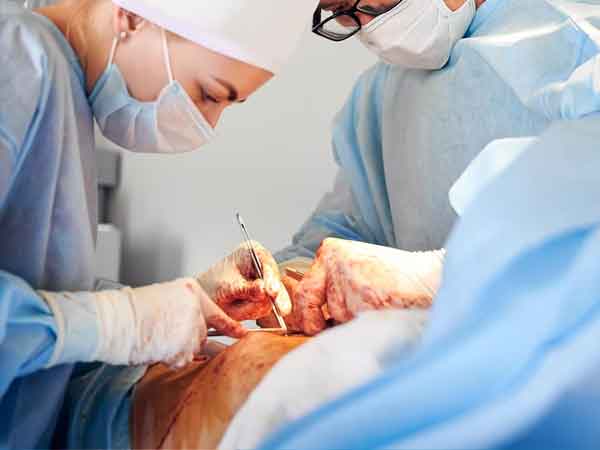 Inguinal hernia surgery is a procedure that repairs inguinal hernias, which are abnormal openings or weaknesses in the abdominal wall. These hernias happen by a variety of factors, including birth defects, age-related deterioration of the muscles, repetitive stress to the abdomen or pelvic area, or trauma. Inguinal hernia surgery involves repairing the tear in the abdominal wall and closing it off securely with sutures. Your surgeon may also recommend a mesh patch to reinforce and strengthen the repaired site. Inguinal hernia surgery typically requires anesthesia and can be performed through open incisions or minimally-invasive techniques depending on your individual condition. Recovery time varies depending on which surgical approach was taken and how your body responds to it.
Understand What an Inguinal Hernia Is!
An inguinal hernia is a common type of hernia. It develops when fatty tissues or parts of the intestine protrude through a weak spot in the abdominal wall. Inguinal hernias can occur in both genders and all age groups, though they are more common in men over 40. Symptoms usually include a visible bulge near the groin, discomfort when standing or lifting, and sometimes pain and swelling in the affected area. The best way to prevent an inguinal hernia from developing is to address any underlying health issues that may cause it, such as obesity or chronic coughing, as well as keep physical activity levels within reason.
Overview of Types of Inguinal Hernias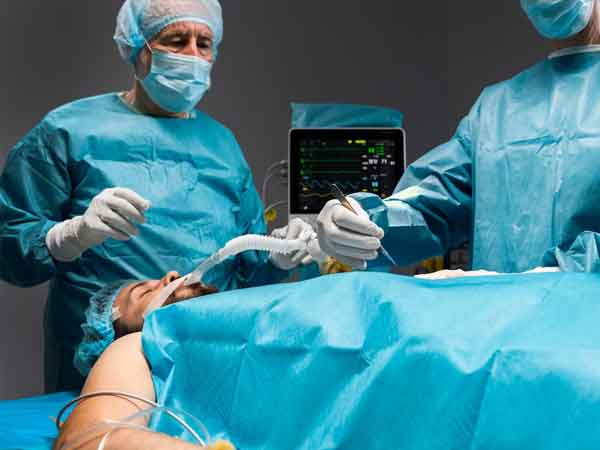 Indirect Hernias:

An indirect hernia occurs when a portion of the intestines protrudes through an existing opening or tunnel in the abdomen. This opening is called an inguinal canal and it connects from where the testes descend in males, to inside your body cavity next to your bladder and lower spine. The structure that makes up this canal weakens over time and can become vulnerable enough to create a gap, allowing content from within your abdominal cavity to poke through and form a hernia. Indirect hernias are more common than direct hernias and makeup nearly 60% of all types of inguinal hernias.

Direct Hernia:

A direct hernia occurs when an internal organ forces its way through muscle or tissue located above it, resulting in a bulge near your groin area that often causes discomfort or pain. 

Complication Hernia:

Complication hernias arise from previous surgeries done around or near the abdomen or groin during a person's lifetime that somehow failed long-term success specifically related to inner linings being weak or poorly placed. 
Identifying an Inguinal Hernia
Be Aware of Common Symptoms If You Suspect You Have an Inguinal Hernia
People with an inguinal hernia experience pain and pressure near the groin area that increases when coughing, straining on the toilet or lifting heavy objects. Other common symptoms may include nausea, vomiting, and a feeling of fullness in the abdomen. As well, they may find difficulty passing feces due to blockage of material within the bowel caused by pressure from the hernia on the inside of their body.
Look for Visible Swelling
A visible swelling will often appear that can range in size from very small to up to five centimeters across in diameter. 
Check Your Abdomen for Tenderness Inguinal Hernia Checkup
If you suspect you have an inguinal hernia then visit your doctor for a physical check-up. This involves palpating (or feeling) around your abdomen with his/her hands to identify any tenderness which could indicate a possible hernia.
Causes & Risk Factors for Inguinal Hernias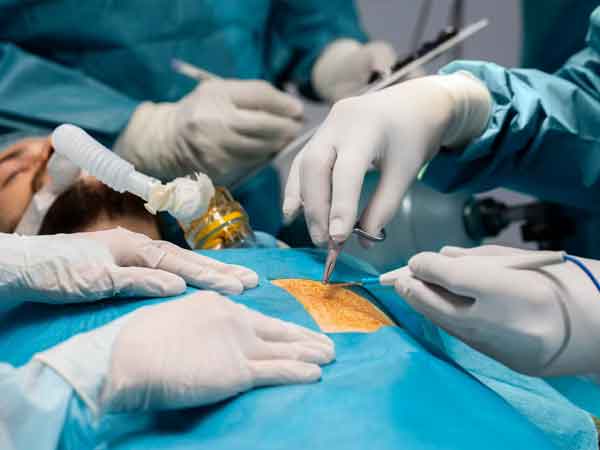 Muscle Damage:

Muscles may be weakened or damaged due to trauma or injury. This then increases the chance of inguinal hernia development. It is important that one pays attention to any unnatural aches or pain.

Constant Lifting:

If a person frequently lifts heavy objects without proper support it puts additional pressure on the abdominal wall. This increases their chances of acquiring an inguinal hernia. This means those who partake in manual labor jobs like construction will have a much higher risk than others.

Chronic Coughing:

Long-term coughing can lead to a weakening of the muscles around your abdomen. This causes organs from within your body to slide outward into your groin area. Resulting in an inguinal hernia. 

Aging:

You are more likely to develop an inguinal hernia if you are over 40 years old. Due to age-related muscle loss and other degenerative changes within the body that weakens your overall muscle structure. 

Obesity & Overweight:

A person's weight impacts their risk of developing various medical conditions. As well as increasing their chance of developing an inguinal hernia since gaining excess weight adds extra strain on all parts of the body. Including your abdominal muscles and tissue, therefore, magnifying its weakness. Due to its stretched nature making them easier for organs/tissue from within to slide outwards into your groin area.
Preparing for Inguinal Hernia Surgery
Preparing for inguinal hernia surgery is an important step in the healing process. It's important to plan ahead and follow your doctor's advice to ensure a successful outcome. Some steps that you can take to prepare include getting an accurate diagnosis and assessment of the area, obtaining preoperative diagnostic studies if indicated, discontinuing any medications that may increase the risk of bleeding during or after surgery, and avoiding strenuous activity prior to surgery. Additionally, some patients may require routine vaccinations prior to surgery in accordance with current guidelines
The Procedure Itself – What Happens During Inguinal Hernia Surgery?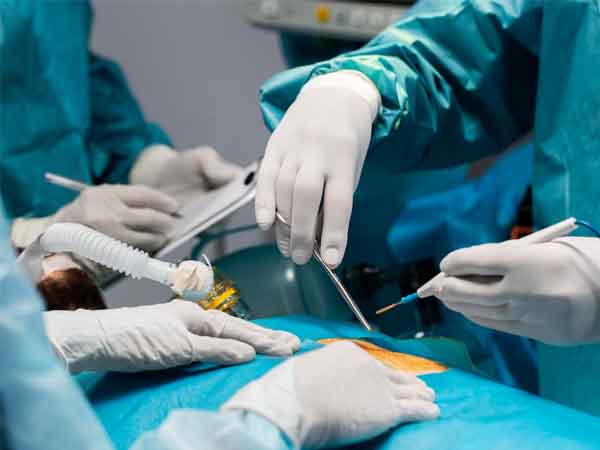 The Surgery Will Take Place in a Hospital Setting:

Inguinal hernia surgery will usually take place in an operating room, either in a hospital or a surgical center. The environment is sterile and secure, with doctors and nurses present for any emergency that may arise during the operation. During the procedure, it will be necessary for you to have drips or other monitoring equipment connected to your body. This will keep a close eye on your vital signs throughout the process.

The Incision Site will be Local Anesthetic:

Before making any incisions into your skin, you'll receive a local anesthetic. This numbs the area around where your surgeon will be working. This means you won't feel any pain or discomfort as incisions are made into your abdominal wall. The numbness should last for several hours after surgery – but bear in mind that some people can still experience minor levels of pain even when under anesthesia.

Tissue Segmentation is Carried Out by Your Surgeon:

Once the anesthetic has been administered, your surgeon will carefully isolate sections of tissue. Which need to be removed or re-aligned during the operation. Their surgical instruments help them hold onto tissue without causing damage. As they adjust segmented areas back into their original position (if applicable). It's important not to move during this stage because it can cause disruption mid-procedure

Stitches or Staples May be Used to Close Wounds:

After all adjustments, the doctor will close your wound with surgical stitches or medical-grade staples. They help keep tissues together while helping dried blood stay out of open wounds. So make sure you follow instructions from your doctor regarding wound care following your operation. So that everything heals properly!
After the Inguinal Hernia Surgery – Recovery and Follow-up Care
After the inguinal hernia surgery, patients should rest and limit physical activity. Most people can resume their normal daily activities. Such as showering and taking a short walk, within 48 hours of the operation. Follow-up care is also very important, including follow-up visits with a doctor and regular check-ins. This will ensure that no further complications or problems have occurred since the surgery. In most cases, hernias do not recur after surgical repair. However, it is important to watch for any signs or symptoms that may indicate a recurrent hernia. Lastly, following all instructions from your doctor for post-operative care will reduce the risks of complications. And help ensure a complete recovery.