A Guideline to Insulin Pump Therapy For Type-1 Diabetes 
Insulin Pump Therapy for Type-1 Diabetes: An Introduction
According to Wikipedia "Insulin pump therapy or CSII ( continuous subcutaneous insulin infusion, scientific name) is a medical therapy used to give insulin continuously and steadily and help those with diabetes mellitus to manage their condition and live a healthy life." Doctors all around the globe are highly recommending the Insulin Pump Therapy For Type-1 Diabetes mellitus as it is a great alternative to the various traditional insulin therapies like insulin injections that are given by syringes or via insulin pens. The current models of insulin pumps began to be developed in the late 1970s. They were refined in the 1990s when technology improved. This made the pumps smaller, safer, and easier to use for patients.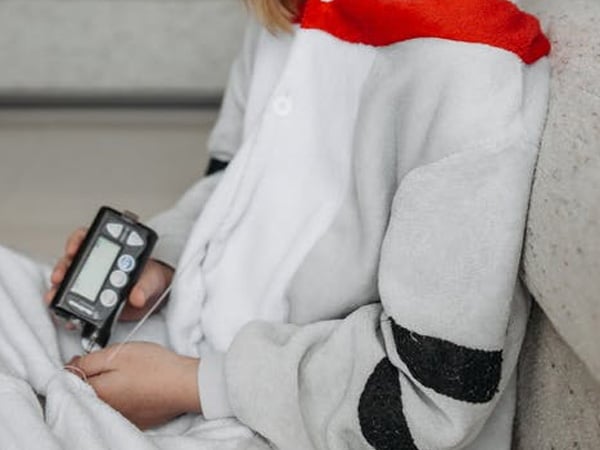 What is Insulin pump therapy? (Insulin Pump Therapy For Type-1 Diabetes )
An insulin pump is a machine that helps people with diabetes by giving them insulin. The pump has a battery, an infusion pump, and an internal insulin reservoir. The pump is linked by tubing to a small, thin tube (cannula) that goes under the skin. usually in the abdomen. It helps in providing a small amount of insulin continuously throughout the day and night. The pump is worn discreetly and the cannula must be changed every 2-3 days to avoid skin irritation or infection. The pump is programmed to give a person a small, continuous amount of insulin (called the basal rate) and can be set to give more insulin at mealtimes (called a bolus). 
Understanding Type-1 Diabetes
What is Type-1 Diabetes? 
"Type 1 diabetes is a disease where your body can't make insulin. This means that the body cannot process sugar properly, and it can lead to serious health problems. There is no cure for type 1 diabetes, but people can manage it by taking insulin, eating a healthy diet, and exercising regularly." as told by mayo clinic.
Who all are more prone to type 1 diabetes?
A person can have type 1 diabetes during its early adulthood or in adolescence. Also, a person can have T1D during its old age.
 Diagnosing the disease on an early basis would you fight the disease with right treatments. it is suggested to diagnose the disease as early as possible and suggested to start with the insulin-pump therapy for type 1 diabetes mellitus.
Read the Various symptoms of T1D in detail 
Tests to do if you have Type-1 Diabetes?
You need to visit your doctor and check if you have T1D. We have mentioned below the important tests one must go through to check if they have T1D:
A1C or Glycated hemoglobin test: This will review changes in the level of blood sugar for the previous two to three months. It analyzes the blood sugar percentage that is present in the hemoglobin. the more the blood sugar level, the more sugar present in the hemoglobin.  
In some cases, the A1C test isn't enough if you are pregnant or your hemoglobin has a different form. In this scenario, the doctor may recommend you a normal blood sugar test and fasting blood sugar test that will help the doctor understand if you require the insulin pump therapy for treatment or not.
Autoantibodies on the other hand are present in the body. These autoantibodies are quite common in T1D. After having these tests your doctor will be able to differentiate between T1D and T2D more precisely.
After the diagnosis you shall visit your doctor, the treatment you should be following and the T1D treatment includes:
T1D treatment
Getting enough Insulin

Balancing fat, protein, and carbohydrate counts

Monitoring Blood sugar frequently

Switching to a balanced diet

Regular Activity / Exercising
Referring to the above ways of treatments you have the choice to go with the insulin-pump therapy for type 1 diabetes mellitus or stick to the traditional insulin syringes or insulin pens. Let us understand the various pros of using an insulin-pump therapy for type 1 diabetes mellitus.
Medications for T1D
Type 1 diabetic patients might have to take insulin every day for the rest of their life. Insulin hormone helps your body to take up the sugar and use it for energy. There are different types of insulin such as:
Short-acting insulin

– which are the Humulin R and the Novolin R insulins. They are super clear in appearance and begin working after 30 minutes of their insertion, therefore suggested to consume 30 minutes before the meals.  It lasts for around six to eight hours and its peak time remains between 2 to 4 hours.

Rapid-acting insulin

– insulin glulisine, insulin lispro, and Insulin Aspart. This is also clear in appearance but it starts functioning within 1 to 20 minutes of insertion. The peak point for rapid-acting insulin is exactly after 1 hour of its insertion and it mostly lasts from 3 hours to 5 hours. Doctors recommend their patients eat something after taking the rapid-acting insulin.

Intermediate-acting insulin

  – NPH is quite cloudy in appearance and requires the addition of zinc or protamine to delay its action. Peaks are between 4 to 12 hours and usually last for 16 to 24 hours.

Long-acting insulin

– insulin glargine, insulin detemir, and insulin degludec. Its appearance is clear and lasts for 24 hours. It generally has no peak time.
Your doctor will recommend you the best insulin therapy according to your condition. You may consume insulin via any method. The most recent one is the insulin-pump therapy for type 1 diabetes mellitus, suggested by the patients. Apart from the insulin pump therapy one can consume insulin through insulin syringes and insulin pens.
Benefits of using insulin-pump therapy for Type-1 Diabetes Mellitus
The major pros of using the insulin pumps are that they help in increasing the flexibility, ensure delivery of insulin from time to time in the desired amount, it also diminishes the variations in the blood sugar levels, and pumps are way more comfortable than the injections and pens, especially on days when the person is not well. They also cover the amount of carbohydrates. 
There are various types of insulin pumps present on the market. The most common types are:
Patch pump

Tethered pump

Closed-loop insulin pump (artificial pancreas)

Implanted insulin pump (IIP)
Many big companies have put their efforts into manufacturing the best insulin pump. One such pump is Insul by Agva which is made into consideration all the latest features and is quite affordable for everyone. Agva healthcare on the other hand is a healthcare agency that provides all the important information about diabetes and has curated highly helpful insulin pumps.
Also Read: 6 Types Of Insulin Pump One Must Know Before Buying
Final Takeaway
If you have T1D you must be juggling between the various treatments and methods to get rid of this disorder. It is the patient's choice at the end of the day. They should consider the method that suits them the best.
There are several insulin pumps in the market but it is better to ask your doctor for the best insulin pump. Do your research, visit various sites, take help from google, read the insulin pumps reviews and get the best. Most importantly, speak to your doctor if you are ready for insulin-pump therapy.