Know About Upper Back Pain: Causes, Symptoms and Treatment
Upper back pain is becoming a very common problem nowadays. An individual can experience Upper back pain anywhere between the base of the neck and the bottom of the rib cage. There are a lot of reasons behind upper back pain such as poor posture, muscle overuse, an injury, disk problems, or other issues including arthritis, spinal infection, etc. In this Blog, we will explore everything about upper back pain such as Understanding upper back pain, causes, treatment, and how to treat upper back pain at home. Therefore, if you are suffering from pain in the upper back or are just willing to acquire information about it then you have come to the right place.
Understanding Upper Back Pain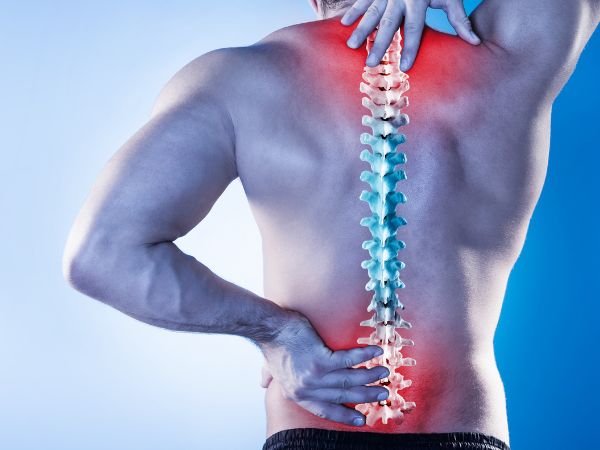 The upper back is the area between the base of the neck to the bottom of the ribcage. Therefore, pain in the upper back can occur anywhere between these two. The upper and middle back is called the thoracic spine. The thoracic spine is made up of 12 small bones called vertebrae, which are responsible for the formation of your backbone. Upper back pain problems are not as common as neck pain or lower back pain problems. This is due to the fact that the bones in your upper back do not move or flex as much as the bones in your neck and lower back. The bones in your upper back work along with your ribs to keep your back stable. They help to safeguard the major organs in your body like the heart and lungs.
Symptoms
Initially, Upper back pain may appear as tightness, throbbing, aching, or stabbing pain in the thoracic region of your back or in your neck. Radiating pain in your arms, numbness, tingling, weakness in your arms, headache, or discomfort in your jaw or occipital area are all symptoms.  Because the ribs are connected to the thoracic spine, taking a deep breath may cause pain.
Causes of Upper Back Pain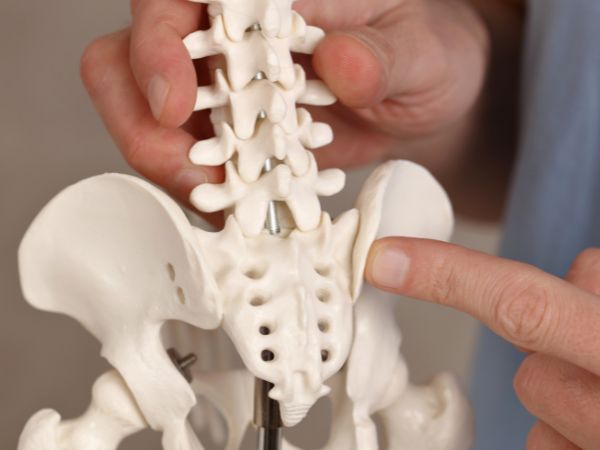 Poor Posture –

Through workouts and weight training, people can develop their muscles to become stronger or more enduring over time. Humans can decondition their muscles over time by not utilizing them appropriately. Deconditioning some muscles, especially the back muscles, is as simple as sitting at a desk with poor posture for an extended period of time. This might be done at work. Slouching in a chair over a desk may induce muscular weakness. Muscle weakness can cause discomfort in the region as stresses or irritation occur.

Wrong Lifting Method –

Lifting a large object without maintaining the spine straight might cause unnecessary strain on the upper back. Lifting or carrying a large object above the head, especially to the left or right rather than centered, might put the shoulder and upper back at risk of injury. Lifting a heavy thing might potentially cause upper back discomfort.

Accident –

Upper back discomfort can be caused by injuries to the spinal bones, discs, muscles, ligaments, nerves, and/or other soft tissues in a vehicle or bike accident, a fall from a height, or a sports injury such as while playing football, hockey, etc.
Osteoarthritis 
Back pain is occasionally caused by a problem with the bones and joints rather than the muscles. As a person ages, the cartilage that cushions and protects the bones may wear away. This is referred to as osteoarthritis. It is the most frequent kind of arthritis among elderly people. 
Osteoarthritis can eventually cause the cartilage between the bones to wear away completely, causing the bones to grind together. This can also cause nerve pressure in the spine, resulting in numbness or tingling in the arms and legs. Anyone who feels they have osteoarthritis should consult a doctor to get a proper diagnosis and treatment plan. Treatment generally focuses on pain management and maintaining joint function.
Severe Spinal Problem
A spinal malformation can cause severe muscle spasms and possibly stress discs and joints if it advances far enough. Scheuermann's kyphosis and scoliosis are two instances. There are also additional reasons for upper back discomfort, such as infection or a tumor pushing on the spinal cord.
How Is Upper Back Pain Problem Identified?
Spine X-ray:

This procedure uses radiation to create pictures of the bones in your spine.

Magnetic resonance imaging (MRI) scan: This type of scan uses a magnet and radio waves to make images of your spine's bones, muscles, tendons, and other soft tissues.
CT scan: A 3D picture of the bones and soft tissues in the spine is created using X-rays and a computer.
Electromyography (EMG):

Examines the nerves and muscles in your spine for injury (neuropathy), which can cause tingling or numbness in your legs.

Blood test:

Can reveal genetic markers for some back pain problems.
Treatments for Upper Back Pain
Upper back pain treatment will be determined by the etiology, risk factors, and medical history. Upper back pain therapy aims to ease your discomfort while also treating the underlying cause and preventing future damage or re-injury. With over-the-counter anti-inflammatory medications, stretching, hot and cold treatment, and massage, many instances of upper back pain resolve on their own within a few weeks. If you have severe or ongoing upper back discomfort, your Dignity Health doctor may recommend stronger pain medicines, physical therapy, or a back brace. A back brace and back muscle strengthening exercises might help avoid future issues. Surgery is often reserved for instances that have failed to respond to conventional therapies. 
How To Cure Back Pain At Home
Use an Ice Bag Or Hot Water Bag – Hot and cold packs can be used to decrease swelling and relieve discomfort. People use ice packs immediately following an injury, such as a strain. Inflammation can be reduced by applying an ice pack wrapped in a towel directly to the back. Cold may give numbing relief for severe back pain. To prevent the skin from frostbite, people can use customized pain treatment cold packs or a bag of ice or frozen vegetables wrapped with a towel. Apply ice packs for a maximum of 20 minutes. A heating pad helps relieve back pain by improving blood flow, which promotes healing. To avoid burns or scalds from the heat pad, people should carefully follow the directions. Heat pads can provide instant relief.

Muscle Movement Exercises –

When you have back discomfort, it might be difficult to get up and move. A brief stroll, aerobics, yoga, water aerobics, swimming, or similar low-impact activity, on the other hand, can assist in relieving back discomfort. Exercising can help to relax stiff muscles and release endorphins, which are the brain's natural pain relievers. To maintain muscles flexible and strong, a person may consider beginning a regular exercise regimen that incorporates strength training and stretching. Regular exercise may help to avoid future back pain episodes caused by tight muscles.
Proper Sleep
A person's ability to bear discomfort may be affected by a lack of sleep. It is advised by healthcare professionals that it is very important to sleep for 7-9 hours every night.
Proper comfort and back alignment are critical for good sleep and preventing morning back discomfort. Extra pillows might assist in keeping the spine aligned in the appropriate posture when sleeping. Head pillows should comfortably support the curvature of the neck. A cushion between the knees might help keep the spine upright when sleeping on your side.