Neck Pain: Causes, Symptoms & Home Treatment
What All You Need To Know About Neck Pain?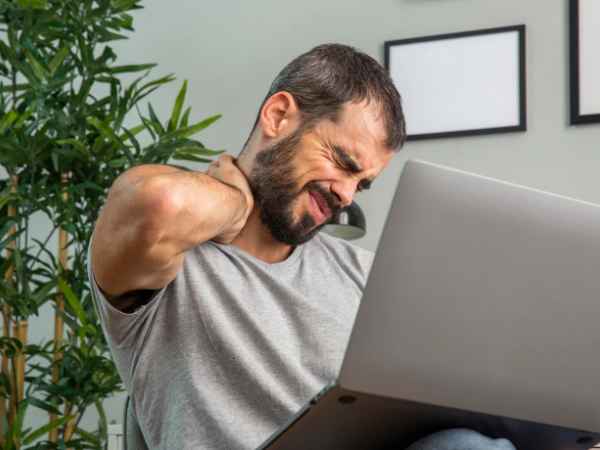 The first thing we need to know about neck pain is what causes it. Neck pain can occur due to many different reasons. In some cases, the cause may not even be known. However, if you do know what's causing your neck pain, then you can take steps to prevent it from happening again. The muscles around the neck are constantly working hard to keep us upright and balanced. When these muscles become strained or overworked, they may begin to ache or feel stiff. Neck pain can occur due to many different reasons including poor posture, repetitive movements, injuries, arthritis, muscle tension, and even thyroid problems.
What causes pain in the neck?
Several factors can lead to neck pain, such as poor posture, accidents, injuries, and disease. Poor posture can result in chronic problems. These problems include bad habits like slouching while sitting at work, bending forward while reading, leaning back in a chair, and even excessive use of a computer mouse. Bad habits can lead to muscular tension and stiffness in the neck, shoulder, and back, which can then lead to pain. Accidents or trauma can occur due to motor vehicle crashes, falls, sports-related injuries, workplace mishaps, etc. Trauma can damage your spinal cord, causing paralysis, nerve damage, and possible long-term effects. Injuries can also occur from being hit by heavy objects, falling down stairs, slipping and falling on ice, and getting whiplash from car accidents. Sickle cell disease, arthritis, fibromyalgia, systemic lupus erythematosus, thyroid disorders, cancer, and infections can affect your nervous system, leading to neck pain.
How do I know if my neck hurts?
If you have any type of neck pain, it's best to visit your doctor right away. However, here are some symptoms that could indicate that you're experiencing it:
Aching or stiffness in your neck

Difficulty moving your head

Tingling sensations in your arms or hands

Soreness or weakness in your shoulders

Swelling in your throat or jaw area

Trouble swallowing

Feeling tired or weak
How can I prevent it?
You can reduce the risk of neck pain by maintaining good posture throughout the day. Make sure that your desk is well-adjusted and supports you comfortably. Avoid prolonged periods spent working in front of a computer screen. Try to sit upright instead of slouching. Maintain proper alignment of your head, eyes, ears, nose, mouth, and chin. Pay attention to your arms, hands, fingers, elbows, wrists, and shoulders. Ensure that they are relaxed and rested while using them. Use correct body mechanics when lifting, pushing, pulling, and carrying items. Take breaks frequently to stretch, walk around, and stand up. Walk around periodically to avoid fatigue and cramping.
Can home remedies help me get rid of neck pain?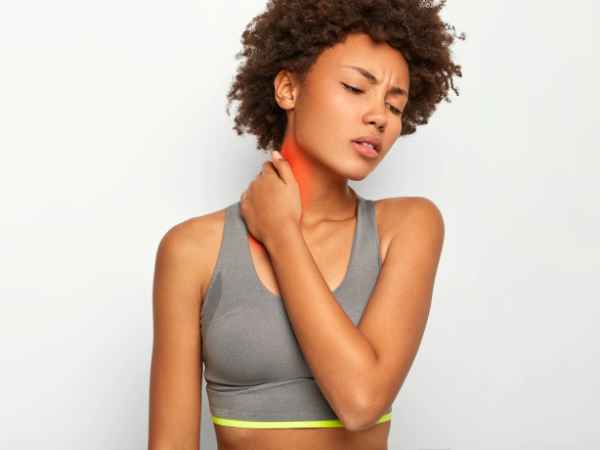 Yes! Most cases of neck pain can be treated effectively with some simple changes in lifestyle, diet, and exercise. Here are some effective home remedies for neck pain.
Hot baths or showers –

 A hot shower or bath can relax tense muscles and increase circulation. This can ease muscle spasms and improve blood flow. To relieve neck pain, soak in hot water for 15 minutes once daily.

Ice packs –

 An ice pack applied directly to the painful area can provide temporary relief. Place an ice cube wrapped in a towel inside a plastic bag. Keep the bag close to your skin so that the cold temperature transfers easily from the ice to your skin.

Massage therapy –

 Regular massage increases blood flow and helps loosen tight muscles. Ask your doctor about having regular massages.

Medications –

 Many medications can treat neck pain. However, natural herbal supplements can provide fast-acting results without side effects. Try taking echinacea, ginkgo Biloba, garlic, ginger, ginseng, goldenseal, kava kava, licorice root, passion flower, St. John's wort, valerian root, and vitamin B12.
How long does neck pain last?
Neck pain can vary greatly depending on the person experiencing it. Sometimes, neck pain lasts only a few minutes; however, other times, it can last hours or days. If you experience any type of neck pain, make sure to get medical attention right away.
When should I seek treatment?
If you notice any symptoms of pain in the neck, such as numbness, tingling, weakness, or loss of balance, then you should immediately go to the doctor. You don't want to wait until the problem gets worse before seeking help.
Can I treat myself at home?
Yes! There are several things you can try yourself to relieve your pain in neck. These include using ice packs, taking over-the-counter medications, and applying hot compresses.
Should I avoid certain activities?
No! Avoiding certain activities isn't going to help your pain in the neck. Instead, focus on doing whatever you enjoy while still staying active.
Will exercise help me?
Exercise is great for relieving tension and stress. But, if you're suffering from it, then you shouldn't push yourself to exercise. Instead, find something else you enjoy doing.
Is acupuncture effective?
Acupuncture is a traditional Chinese medicine technique that involves inserting needles into specific points along the body. Acupuncturists believe these points affect our bodies natural healing processes. While there's no scientific evidence proving its effectiveness, acupuncture is often recommended for people who suffer from chronic pain.
How common is neck pain?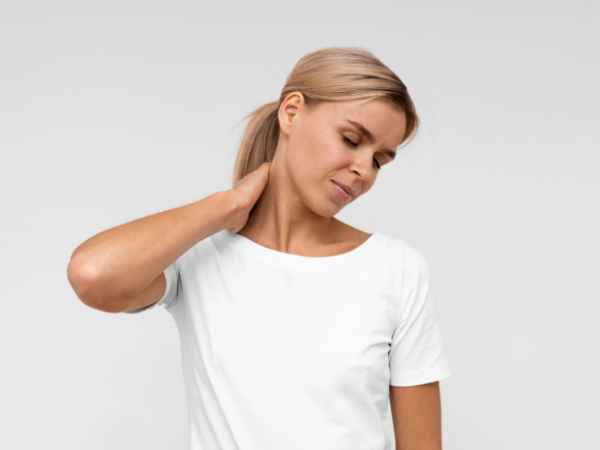 It is a common problem affecting people of all ages and genders. Neck pain may occur due to many reasons including poor posture, muscle strain, trauma, arthritis, injury, infection, or even cancer. Over 70% of adults experience some form of NP at least once in their lifetime. There are several ways to help relieve neck pain. Here are some tips to try:
Sleep on a firm mattress with good bedding. A soft pillow can cause pressure points along the spine.

Use a foam wedge under a mattress if sleeping on a hard surface.

Avoid using pillows that put pressure on the neck.

Avoid prolonged sitting positions. Sit upright instead.

Keep the head straight and avoid leaning forward.

Sit comfortably while working, driving, or watching television.

Wear comfortable clothing. Avoid tight-fitting clothes.

Do not cross the arms over the chest. Crossed arms create tension in the shoulders and upper back.

Try gentle stretching exercises daily.

If you suffer from chronic NP, consult with a doctor to determine if you need further treatment.
What are the various things to consider?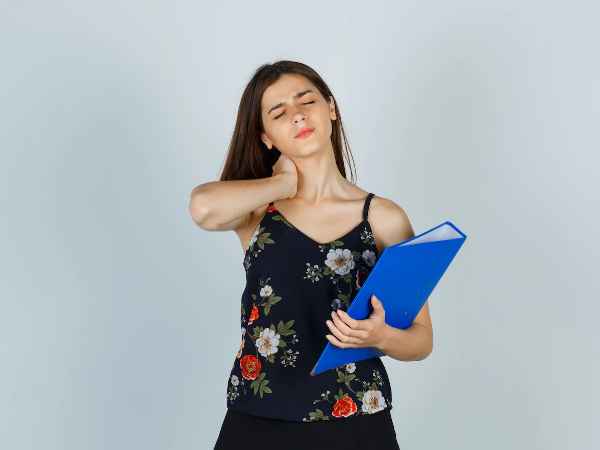 Neck pain is a complex problem that many people face at some point in their lives. Most people don't realize they should seek help until much later when the symptoms become unbearable. When someone experiences pain in the neck, they may notice sharp pains radiating down the arm and/or shoulder blades. In addition, they may experience numbness and tingling sensations, muscle weakness, headaches, dizziness, and even nausea. It can occur suddenly or slowly develop over time. No matter what kind of NP you experience, your doctor will want to conduct a full physical examination to determine its cause. Your physician may recommend imaging tests such as X-rays, MRIs, or CT scans. If these tests do not identify the underlying cause of your neck pain, your doctor may suggest surgery or medication treatment.
When seeking medical care for chronic NP, your first step might be to try noninvasive treatments. These methods include massage therapy, acupuncture, chiropractic adjustments, yoga, exercise, and stretching. However, if none of these strategies helps reduce your pain, then your doctor will likely refer you to a specialist who specializes in treating NP.
In cases where conservative therapies fail, surgical options include decompression of cervical nerve roots or fusion procedures. There are several different types of spinal fusion surgeries, including anterior lumbar interbody fusions (ALIF), posterior lumbar interbody fusion (PLIF), and transforaminal lumbar interbody arthroplasty (TLIF). Spine surgeons use these techniques to treat degenerative conditions such as arthritis, herniated discs, and stenosis.
For patients who opt for spine surgery, the goal is to restore the normal function of the affected area without causing further problems. Depending upon the type of procedure performed, complications may include infection, blood clots, delayed healing, heart attack, stroke, kidney damage, paralysis, death, or scarring. As long as a patient understands the risks, has realistic expectations about recovery times, and receives adequate education before undergoing any surgery, spinal fusion is a viable option for patients suffering from chronic neck pain.
What is all to consider?
Try to keep yourself calm and relaxed. Do not force anything. Take things slow and steady. You need to take care of yourself before going back to work. Avoid straining your neck while lifting heavy objects. Always wear protective gear when working around power tools or machinery. Wear proper safety glasses. Keep your body fit and active. Stay away from alcohol and drugs. Exercise regularly. Eat well. Get enough sleep. Don't smoke. Learn how to manage stress. Try meditation and mindfulness. Reduce your intake of caffeine.
Final Takeaway
Neck Pain – What You Should Know
Neck pain is not always caused by injury. There may be many reasons for neck pain including muscle strain, arthritis, disc disease, degenerative changes, bone spurs, nerve impingement, etc. In addition to medical treatment, some people find relief using chiropractic care. Chiropractors use spinal adjustments, exercises, traction, massage therapy, and cold laser treatments to treat NP.
How To Prevent Pain in the neck?
The best way to prevent neck pain is to maintain good posture throughout the day. Maintain proper body alignment while sitting at work, driving, playing sports, or doing any activity where your head is bent forward. Avoid prolonged periods spent looking down at a computer screen or phone. If you do experience NP, try ice packs or heat wraps to help reduce inflammation.
Treatment Options 
Treatment options depend on the cause of the neck pain. If the problem stems from a lack of exercise, then physical therapy may be recommended. A doctor may prescribe medication if the pain is severe enough to interfere with normal activities. Surgery may be necessary if the damage is extensive.
Home Remedies 
There are several home remedies for neck pain. One example includes applying hot water bottles to the affected area. Another option is placing a heating pad under the chin. Using these methods can provide temporary relief until you seek professional care.