Top 5 Types Of Cheese You Must Try Once In Your Life
Are you a cheese lover or someone who is always ready to try all the varieties of cheese or items that are made up of cheese? Well, Cheese is one of the most loved food items all over the world and it is available in a vast variety. Cheese is a food extract from milk and it is a great source of fat, phosphorus, protein, and calcium. There are more than 2,000 different types of cheese around the world and their taste, texture, and form depend on different factors such as the source of milk such as cow, goat, etc. as well as its processing and aging, flavoring agents. In this Blog, we deep dive into the incredible world of cheese and explore the list of different types of cheese, their availability in India, and the best pizza cheese that everyone should try at least once. Therefore, if you're a cheese lover or an individual who is just willing to seek information about the various types of cheese, then this article is just for you.
What is Cheese?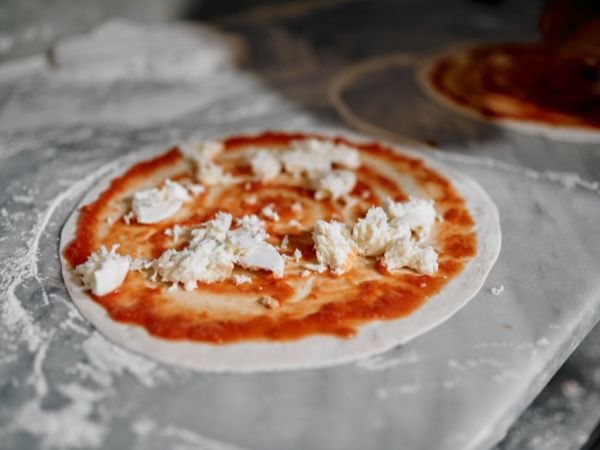 cheese is a dairy product as it is obtained from the acidification of milk. It is a rich source of fats, calcium, and proteins. Most of us know that the deficiency of calcium can be covered by the consumption of milk but do you know that there is an availability of protein in milk which is called casein and this protein in milk is generated after the acidification of milk? As mentioned, cheese is made of milk and once milk is converted into cheese it can be preserved for months and years.
List of Cheese Names
There are more than 2,000 different types of cheese around the world with different tastes, textures, and forms. Here is a small list of different types of cheese names you might come across in India and beyond 
Asiago

Blue Cheese

Brie

Cheddar

Cotija

Cottage Cheese

Cream Cheese

Camembert

Edam

Feta

Fontina

Grana Padano

Gouda

Gowardhan Cheese

Halloumi

Havarti

Mozzarella

Manchego

Mascarpone

Paneer

Parmigiano-Reggiano

Queso Blanco

Ricotta

Swiss
Top 5 Types Of Cheese That You Would Love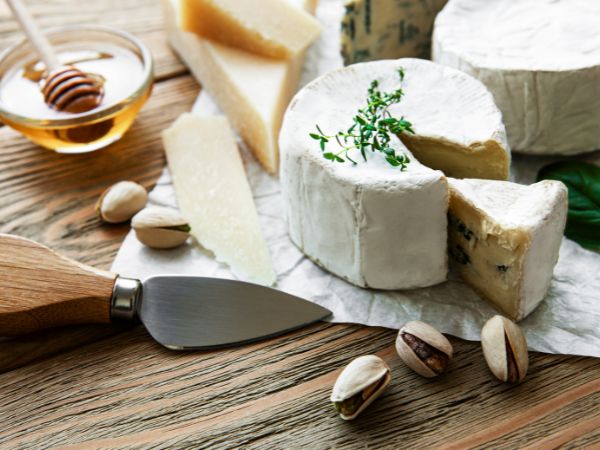 Cheddar Cheese: Cheddar cheese is among one of the most popular cheese varieties in the whole world. This cheese is normally of three colors, which are white, off-white, and golden yellow. It is liked by numerous people due to its sharp and tangy flavor. It is a versatile cheese and is commonly used in sandwiches, burgers, macaroni, and pasta.
Mozzarella Cheese: Mozzarella cheese is made from buffalos and cow's milk. This cheese is very soft and mild as it melts beautifully. It is often used for preparing pizza and is also used in caprese salads, seafood, etc.
Brie: Brie is made from pure cow milk only, brie is known for its soft, smooth as well and creamy filling. During the production process cream is added, which makes the brie cheese rich and runny in texture. This cheese is very popular among a lot of people globally because of its buttery flavor with a bit of earthiness.
Swiss Cheese: One of the most famous cheeses among people all over the world is Swiss cheese. It is famous for its characteristic holes and nutty taste. It is commonly used in sandwiches and quiches.
Robiola Piemonte: This cheese is one of the most luxurious cheeses in the world. It is made from a mixture of sheep, cow, and goat's milk. It is soft ripened and creamy in texture. It is grained very well and can be easily separated. Once the cheese is preserved for a long period of time it becomes slightly straw in colour and sweet in flavor. It is believed that the cheese will be more delicious if it is made up of raw milk.
Brands of Cheese in India
In India, cheese has become increasingly popular, Some common varieties of cheese are mentioned in the following below:
Amul Cheese: Amul is a very famous Indian brand that provides a huge variety of cheese products such as cheddar, mozzarella, and processed cheese slices.
Gowardhan Cheese: Gowardhan is another popular cheese brand in India, providing a variety of cheese options.
Types of Cheese in India?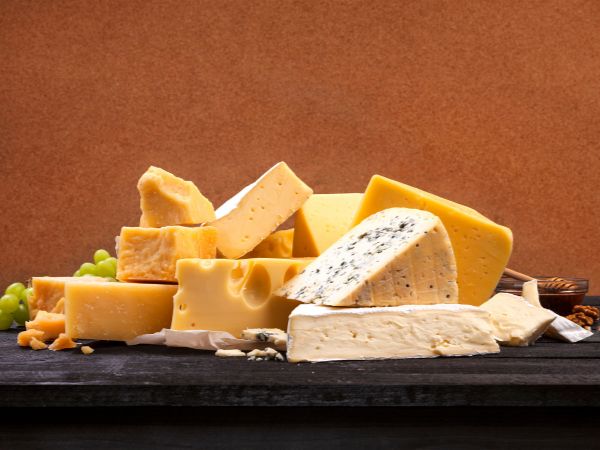 India has a huge number of cheese lovers, and there is a wide variety of cheese kinds available here. Although the range is not as broad as in other Western nations, you can still enjoy aged cheddar, mozzarella, parmesan, and many Indian cheeses including paneer and Chhurpi. Let's explore the types of cheese in India.
Paneer:

Paneer is a fresh cheese that is used in Indian cuisine. This cheese is pure white in color. In India, a lot of items are made up of paneer. However, paneer tikka, chili paneer, and paneer butter masala are the most common dishes of paneer.

Chhurpi:

Chhurpi is one of the very famous cheeses in India, especially in the Himalayan region. This cheese is made from yak milk and it is commonly known for its high-protein and nutritional value. It is generally made in the regions of Nepal, Tibet, and the Himalayan region of India, whereas it is easily found on street corners in the Northeastern state of Sikkim. Normally chhurpi has two varieties which are soft and hard. The softer chhurpi is commonly used as part of a filling for momos, and it is even added to simple, homemade chutneys to enhance its taste.

Kalimpong Cheese:

Kalimpong Cheese is like gouda cheese only but with an Indian flavor. This cheese is mellow but sharp in texture. It is made in the hills of Kalimpong in West Bengal. It originated from Sikkim but now Amul which is a big brand of dairy products has taken over it. 
Best Pizza Cheese
When it comes to preparing the perfect pizza, the choice of cheese plays a very important role. As we know there are more than 2,000 varieties of cheese available in the world, and mozzarella is the clear champion for pizza preparation. Its soft texture, mild flavor, and the way it melts make it a perfect choice. However, if you are a pizza lover and want to try different flavors and textures in your pizza then, you can also experiment by combining mozzarella with other cheeses like parmesan or provolone for added depth of flavor.
Wrap Up
Cheese is an incredible ingredient that adds richness and flavor to many dishes. Whether you're a cheese lover or just curious to explore the world of cheese, there are numerous types and options to suit your palate. In India, cheese has found its place in traditional and fusion cuisines, making it a versatile and beloved ingredient in almost all households. Therefore, go ahead, and explore different types of cheese, try them in your favorite dishes, and enjoy the cheesy goodness they bring to your meals. And when it is time for pizza night, don't forget to top it with the best pizza cheese which is mozzarella!