Trail Mix: The Perfect and Healthy Snacks
Many important nutrients are required to keep our minds and bodies healthy. Protein, good fats, and carbs are essential nutrients for daily life. functioning and contributing to our general wellness. Rather than include a snack at each meal to meet your nutrient requirements, search for a snack that ticks all the boxes, and what could be better than a healthy trail mix? Trail mix is a tasty and easy snack composed of a precisely calibrated mixture of nuts, seeds, and dried fruits. With this tasty and healthy snacking option, you may get a flavorful and energy boost. There are a lot of different varieties of trail mix nuts and seeds including cashews, almonds, walnuts, pumpkin seeds, raisins, flax seeds, and more to fit different preferences and dietary needs. You can consume it as a snack, put it over salads, or you can add trail mix nuts with baked goods in order to make it more healthy. People of all age groups can eat trail nuts as it is very healthy. If you are willing to seek information about this topic then you must read this blog as you will get all the information regarding trail mix nuts, Its benefits, How to consume it, and more. 
Understanding Trail Mix?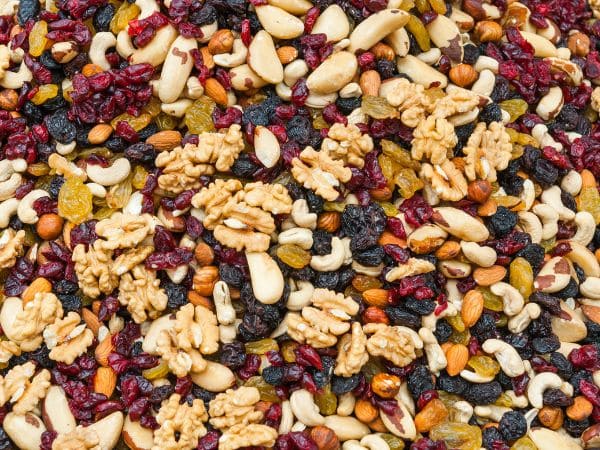 Trail mix is a sort of snack that was invented as a meal to be carried on treks. It is often a combination of granola, dried fruit, nuts, and sometimes sweets. It's perfect since it's light, portable, and nutritional. This is due to the energy spike provided by the carbs in dried fruit or granola, as well as the continuous energy provided by the lipids in almonds. Trail mix was once known as "GORP," which stood for "Good Old Raisins and Peanuts" or "Granola, Oats, Raising, Peanuts." This blend may be found in a variety of cultures and time periods. Native Americans, for example, ate a variation that incorporated dried buffalo meat. The first contemporary rendition, however, is credited to Horace Kephart.  
Health Benefits of Trail Mix
Cure Constipation:

Constipation is a common digestive problem that causes difficulties passing stools, infrequent bowel motions, and dry or firm stools. If you have constipation, incorporating a fiber-rich diet may help to relieve the symptoms. A dried fruit trail mix is an excellent snack for reducing the effects of constipation. Dried fruits such as figs, prunes, dates, and raisins are high in dietary fiber, which may help avoid constipation. Fiber retains water and passes through the digestive system unbroken. This water softens the colon, resulting in regular bowel motions and significant alleviation.

Increase Energy Levels:

Trail mix nuts are a nutrient-dense snack that significantly increases energy levels. As we know dry fruits are a great source of carbohydrates they supply energy to the brain and muscles. They are high in dietary fiber, which slows digestion, maintains blood sugar levels, and provides consistent energy release throughout time. Dates are a type of dry fruit that is high in iron and advantageous to persons who suffer from anemia. Having trail mix nuts will give you an immediate energy boost as it is naturally high in natural sugars such as glucose, fructose, and sucrose. Individuals can add 2 to 3 dates into their regular diet for a rapid and effective energy boost.

Controls Type 2 Diabetes: Diabetes is a disorder that occurs when your blood sugar (glucose) levels are too high. The very common reason for getting diabetes is when your pancreas is not able to produce enough insulin. It is very crucial to take care of your diet for everyone as diabetes is a disease that can affect anyone, no matter which age group they belong to. Diabetes is a chronic disease but it can be managed with drugs and/or lifestyle adjustments. Generally, trail mix food is high in good fats, protein, and carbs. Trail mix foods such as dates, raisins, apricots, and cashews are very healthy to eat, especially for people who have type 2 diabetes. This is because these trials contain a low glycemic index. Therefore these trail mixes can be very beneficial for type 2 diabetes patients as it helps them to regulate their blood sugar levels. Additionally, trail mix nuts and seeds are high in fiber, which helps to regulate blood sugar levels and improve insulin action.
5 Different Types of Trail Mix
Trail mixes make a fantastic snack. They're an excellent on-the-go snack, a quick grab-and-go alternative when you're in a hurry and a pantry staple that ensures there's always a nutritious snack on hand. A nutritious trail mix is a healthier dinner alternative than certain sugary, high-salt junk food options in a pinch. One of the nicest aspects of trail mixes is the wide range of viable combinations Different types of trail mix are mentioned in the following below:
Nuts and  Seeds:

Nuts and seeds are highly nutritious. In the following below is a list of 
fat and calorie content per ounce of selected nuts and seeds:
Almonds: 160

Cashews: 160

Chia Seeds: 140

Peanuts: 160

Sunflower Seeds: 165

Walnuts: 185
Dried Fruit Or Freeze-Dried Fruit:

Basic nutrients content in some common freeze-dried fruit
Freeze-dried strawberries: 120 calories 

Freeze-dried bananas: 150 calories 

Freeze-dried apples: 130 calories 

Freeze-dried cherries: 98 calories 

Freeze-dried raspberries: 130 calories
Dark Chocolate:

A quarter cup of dark chocolate, which is around 1.5 ounces or 2 large squares, contains:
220 calories

2 grams of protein

13 grams of fat

24 grams of carbohydrates

3 grams of fiber

18 grams of sugar

3 milligrams of cholesterol

9 milligrams of sodium
Shredded Coconut:

The nutrition facts for 1 cup (80 grams) of fresh, shredded coconut is:
Calories: 283

Protein: 3 grams

Carbs: 10 grams

Fat: 27 grams

Sugar: 5 grams

Fiber: 7 grams

Manganese: 60% of the Daily Value (DV)

Selenium: 15% of the DV

Copper: 44% of the DV

Phosphorus: 13% of the DV

Potassium: 6% of the DV

Iron: 11% of the DV

Zinc: 10% of the DV
Ginger:

1 tablespoon of fresh ginger has:
5 calories

1 gram (g) of carbohydrate

0.1 g of dietary fiber

0.1 g of protein

0 g fat

0.1 g of sugar

Vitamin B3 and B6

Iron

Potassium

Magnesium

Phosphorus

Zinc

Folate

Riboflavin

Niacin
High Protein Trail Mix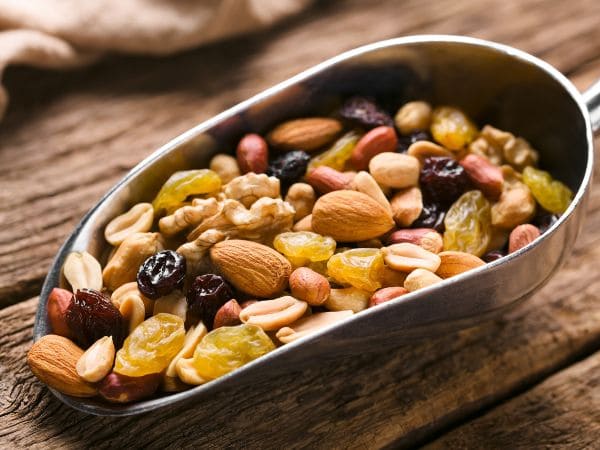 Protein-rich trail mix contains nuts, cashews, Seeds of sunflower, edamame, dried fruit, chocolate chips, and more. It's the ideal protein-packed snack to keep on hand for when hunger strikes! Here are some outstanding combinations of trails that you can use to make your trail mix at home:
Option 1:
Almonds are both sweet and fruity.
Chunks of dark chocolate
Cranberries, dried
shredded dried coconut
Granola
Option 2:
Salted cashews
Seeds of sunflower
Pistachios
Peas with Wasabi
Option 3:
Peanut Butter Cup in Dark Chocolate
Peanuts
Granola
NOTE: You just have to simply combine all of the ingredients in a large mixing bowl, and it is ready to serve. You can also store it in an airtight jar for up to 7-10 days.
Also Read: