AIIMS Appointment Cancel Online | New Delhi | Neurosurgery Department
How to Cancel AIIMS Appointment Online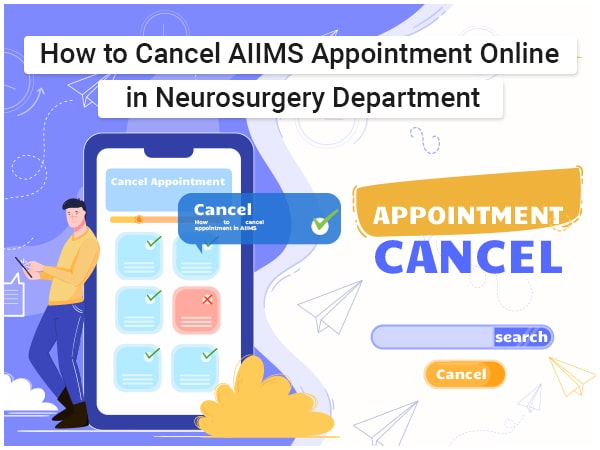 To learn how to cancel an online appointment in AIIMS Delhi, do read this article till the very end. Because in this article we will talk about how to cancel an online appointment through the AIIMS website. 
Step 1- Firstly, you'll have to open google and type AIIMS in the search bar.
Step 2- In the search results, the website of AIIMS will be shown at the top. Click on the AIIMS website link.
Step 3- When the website opens, click on appointments. Doing so will take you to another website, named ors.gov.in.
Step 4- click on the book appointment icon that can be seen in the middle
Step 5- After clicking the appointment icon, you will see three different options from which you can select the state and the hospital of your choice in that particular state. 
Step 6- Since we want to cancel an appointment in the AIIMS Neurosurgery department, we will select "Delhi" in the state section and "AIIMS, New Delhi" in the hospital section. 
Step 7- Select the cancel appointment icon below the heading of "For existing appointment"
Step 8- After you click on cancel appointment, you will see a new window in which you are asked to log in by using either your mobile number or your ABHA (health ID) that you have already used while booking the appointment. 
Step 9- After you enter your phone number, you will receive an OTP on your phone. You will be logged in after entering the OTP. 
Step 10- You will see a screen in which you will see a red cross sign, click on it. After clicking, a popup will appear on the top, in which it is written- Do you want to cancel your appointment? If yes, then you will click OK.
Step 11- On clicking OK, another popup will appear, informing you that an OTP will come on your registered mobile number. You have to click on OK again. After that, you have to enter the unique OTP and click on Verify OTP.
Step 12- Finally, another popup will appear on your screen informing you that your appointment has been cancelled. Now, click on OK. Along with this, a message of a Cancel Appointment will also come on your phone. This means that your appointment has been successfully cancelled.