Brain Food: Best food to Boost Brain & Memory
Brain-boosting foods: How brain food works!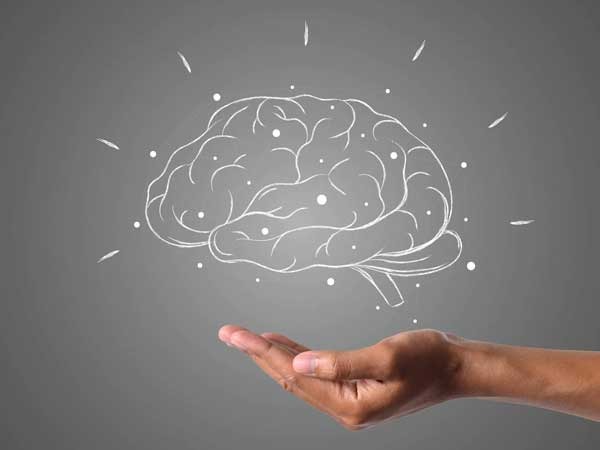 Brain Food refers to food items that contain vitamins, minerals, antioxidants, fiber, and protein. It aids in the function of the body's central nervous system (CNS). Brain foods promote cognitive function throughout the day and keep your mental focus sharp at work.
Our brain controls everything we do. It controls our heart rate, breathing, digestion, blood pressure, emotions, thoughts, memory, etc. It is the master controller of our body. Our brain takes information from the eyes, ears, nose, mouth, skin, joints, and internal organs process it, and then sends commands back out to the rest of the body via the spinal nerves.
There are several types of brain food including whole grains, eggs, fruits and vegetables, nuts, seeds, legumes, dairy products, fish, lean meats, dark chocolate, and tea. Let us read more
In what ways does food affect our brains?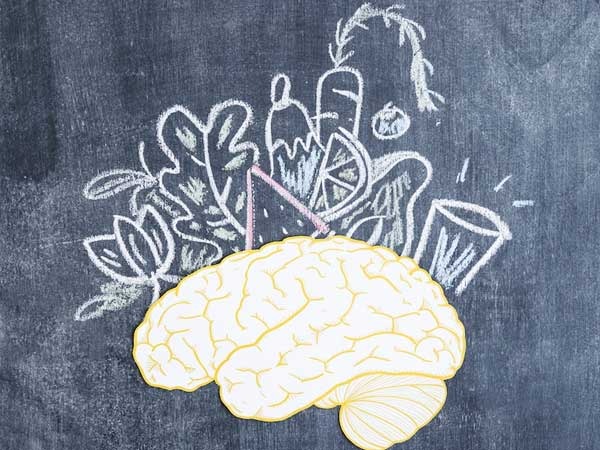 Food affects our mood: Food is not only fuel for our body but also provides us with the necessary nutrients to keep our brains functioning properly. A study conducted at Stanford University showed that people who ate a diet rich in omega-3 fatty acids had lower levels of depression than those who did not. Omega-3 fatty acids are present in fish oil and flaxseed oil. Other studies have shown that eating foods high in antioxidants may help prevent mental decline. Free radicals are unstable molecules that cause damage to DNA and lead to cancer and aging. Foods rich in antioxidants include berries, dark chocolate, nuts, and leafy greens.
Food affects our memory: A study published in the Journal of Alzheimer's Disease found that older adults who consumed five servings of fruits and vegetables per day were less likely to develop dementia than those who ate fewer servings. Fiber helps to reduce inflammation throughout the body, while vitamin C boosts the immune system and prevents oxidative damage.
Food affects our attention span: Eating a balanced diet is important for keeping your mind sharp. Studies show that people who consume diets rich in whole grains tend to perform better on tests of attention and focus than those who do not.
Food affects our learning abilities: The National Institutes of Health (NIH) recommends consuming three to four cups of fruit and two to three cups of vegetables daily. These recommendations are based on research showing that children who consume these amounts of fruit and vegetables are less likely to suffer from ADHD. Fruit and vegetables are full of antioxidants, which boost the production of neurotransmitters in the brain. Antioxidants help maintain the integrity of these chemicals, which keeps them working well.
Food affects our creativity: Creativity requires a healthy dose of oxygen, which comes from fresh air and exercise. In addition, creative thinking relies heavily on the prefrontal cortex, which is located near the front of the brain. Oxygenated blood flows freely to this area, giving it the energy it needs to work efficiently. When the brain gets no oxygen, it becomes sluggish and unable to think creatively.
Food affects our sleep patterns: Sleep is a time when the body repairs itself and restores its energy stores. Sleep deprivation causes fatigue, which makes it harder to concentrate and remember things. Eating a diet rich in protein before bedtime can help promote restful sleep. Protein contains tryptophan, an amino acid that triggers the release of serotonin, a chemical that promotes relaxation. Serotonin also helps regulate the sleep cycle.
Food affects our emotions: Hormones control many aspects of our lives, including appetite, sexual desire, and sleep cycles. Certain types of fats called polyunsaturated fats help produce certain hormones that affect how we feel emotionally. Fatty fish like tuna and salmon contain omega-3 fatty acids, which are good for promoting feelings of happiness and contentment.
Brain food: what do the studies say?
Recent years have seen a number of studies to discover whether eating certain foods affects brain function, cognition, and memory. One of these research focuses on the role of omega-3 fatty acids in boosting brain function.
One study published in 2017 compared the effect of eating walnuts with almonds on cognitive performance. Researchers measured the participants' blood levels of alpha-linolenic acid (ALA), which is one of the omega-3 fatty acids present in walnuts.
The results showed that people who consumed walnut oil had higher levels of ALA in their blood than those who consumed almond oil. Furthermore, the participants who ate walnuts performed better on tests measuring attention and memory.
Studies have also shown that eating fish regularly reduces depressive symptoms. However, not all studies have shown positive effects of diet on mood. A 2008 study published in the journal Neuropsychobiology found that eating too much red meat increased the risk of psychiatric problems among adolescents.
Therefore, if you find yourself depressed or experiencing other mental issues, try adopting a healthier lifestyle by making small changes to your diet.
List of Brain foods: what do they consist of?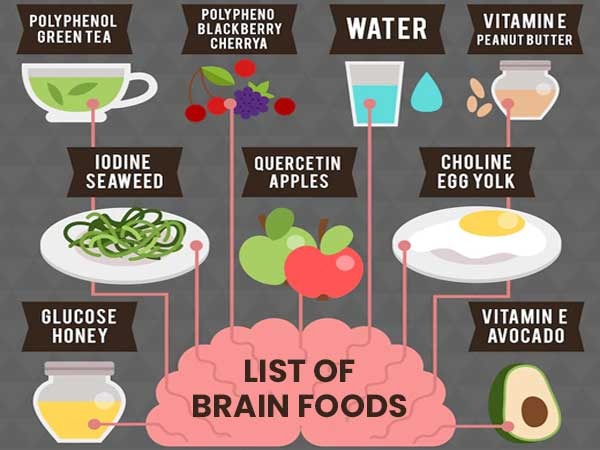 Blueberries: Blueberries are rich in antioxidants called anthocyanins, which may help protect the brain from damage caused by free radicals. Free radicals are unstable molecules that cause cellular damage and can cause Alzheimer's disease. Anthocyanins can also improve memory and learning.
Broccoli: Broccoli contains sulforaphane, a substance that helps detoxify cells. Sulforaphane may reduce inflammation and slow down the progression of Parkinson's disease.
Cinnamon: Cinnamon has long been known for its medicinal properties. Studies show that cinnamon extract may help prevent Alzheimer's disease by reducing beta-amyloid plaque formation (the buildup of protein deposits that is characteristic of Alzheimer's).
Dark chocolate: Dark chocolate is high in flavonoids, compounds that may help fight depression. In addition, dark chocolate improves cognitive function in older adults.
Green tea: Green tea contains catechins, powerful antioxidants that have been shown to improve attention span and concentration. A study published in the Journal of Nutrition found that people who drank four cups of green tea daily had improved focus and alertness than those who didn't drink any at all.
Kale: Kale is loaded with vitamin K, which is necessary for blood clotting. Vitamin K may play a role in preventing dementia, according to research presented at the American Academy of Neurology meeting last year.
Onions: Onion bulbs are packed with quercetin, a phytonutrient that may help ward off age-related memory loss. Quercetin may also inhibit enzymes involved in the production of amyloid plaques, the abnormal clumps of protein that accumulate inside the brains of people with Alzheimer's disease.
Omega-3 fatty acids: Omega-3 fatty acids are polyunsaturated fats that are abundant in fish oil and flaxseed oil. These oils improve memory and learning in older adults.
Walnuts: Walnuts are rich in omega-3 fatty acids and alpha-linolenic acid, both of which have been associated with enhanced learning and memory. Researchers suggest that eating just two handfuls of walnuts daily could provide some protection.
Beans: Beans are loaded with fiber, folate, iron, and protein, which all play important roles in maintaining good brain health. Beans are also a great source of complex carbs, which can fuel your brain while helping to ward off hunger pangs. Research suggests that consuming beans regularly may reduce the risk of dementia.
Eggs: Eggs are a great food for boosting brain power. Studies show that eating just two eggs daily can significantly boost a person's test scores.
Salmon: Salmon is loaded with omega-3 fatty acids, which research suggests could help reduce the risk of developing Alzheimer's disease. Other studies suggest that salmon consumption may even help prevent age-related mental decline.
Yogurt: Yogurt is packed with probiotics, which aid digestion and promote a strong immune system. Probiotic bacteria also play a role in keeping our brains young and sharp.
The final takeaway,
Brain food can be a great way to give your brain a little boost during a hectic day. You can start with as little as one new brain-food group per day and work your way up until you're incorporating all of them into your diet. What's more, these foods are naturally delicious, you don't have to feel constrained by your diet when you eat brain food. They provide tastes and textures that can enhance the enjoyment of a meal. This will help to provide your brain with everything that it needs to function properly so that it can continue to control the rest of your body and make sure that every system is working properly without fail.
Poll: What component is found in fruits and veggies that strengthen the brain and fight off free radicals
antistressors
antioxidants
chlorophyll
pesticides