Diabetes Insulin Pump: Ultimate Guide of Insulin Pump
Diabetes Insulin Pump: Components, Pros & Cons, Features, Types, Brands, & Your All Doubts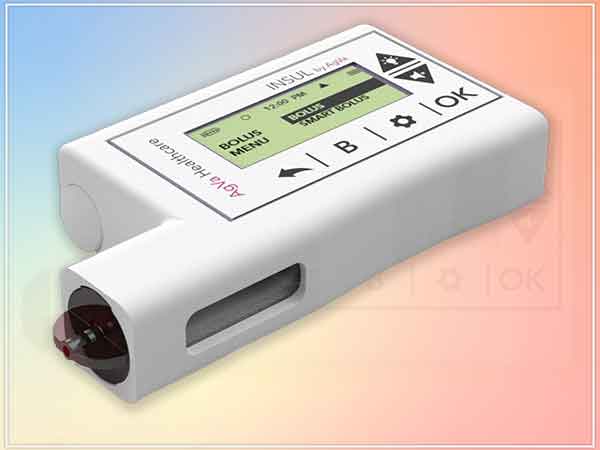 About Insulin Pump
A diabetes insulin pump is a small electronic device that is used to administer insulin inside the body and help diabetic patients manage their blood sugar levels. It is a much more advanced alternative to using syringes or insulin pens. Insulin pumps are portable devices that allow diabetic patients to perform daily activities without much problem. They are usually worn around the belt and attached to your stomach with a cannula. Other places where an insulin pump can be put are pant pockets, purses, and under your clothes.
The best part about using an insulin pump is that there is no need for using multiple injections in a day. Instead, you just have to inject it once in your body and the pump will schedule the doses according to your needs. 
An Insulin Pump acts as an artificial pancreas by constantly checking the blood sugar levels and regulating the amount of insulin in the body.
Components of Insulin Pump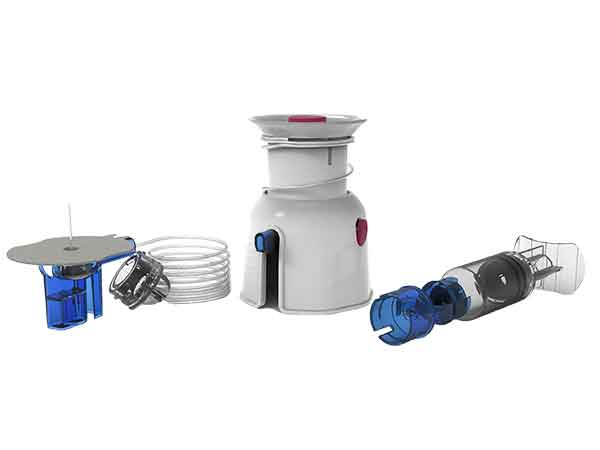 Most insulin pumps mainly consist of:
Pump- It is the main electronic device that usually has a display, battery, microprocessor, circuit board, motor, buttons, and controls.

Disposable reservoir- It is a container that stores the insulin that is meant to be administered. It is situated inside the Insulin pump and is replaceable.

A disposable infusion set- It includes the cannula, insertion needle, and a tube that connects the disposable reservoir to the cannula. The insulin passes from the pump to the body through this system.
History of Insulin Pump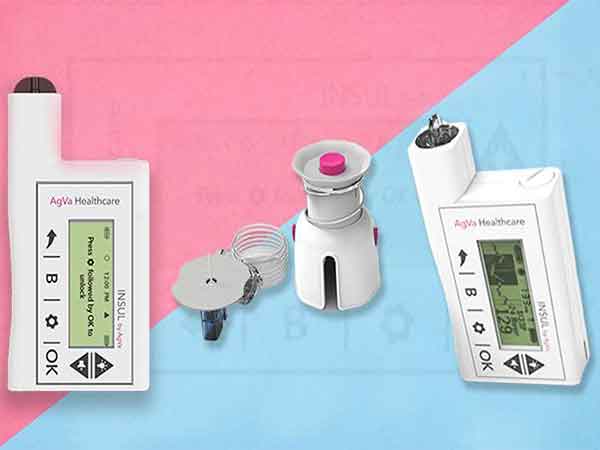 Insulin pumps were first invented in 1922 by Dr. Frederick Banting and his colleague Charles Best at the University of Toronto. Their goal was to create a way to deliver insulin directly into the bloodstream without having to inject it under the skin. In order to do this, they created a device called the "Banting-Best Glucose Tolerance Test" (BBGT). This test would later become known as the "gold standard" for blood glucose testing. After many years of research, they finally succeeded in developing their invention in 1972.
An insulin pump works by using a small tube to connect the user's body to the insulin reservoir. A sensor measures the amount of sugar in the user's blood and sends data to a microprocessor. The microprocessor then calculates how much insulin should be delivered to the user based on the current level of sugar. When the correct dose of insulin is calculated, the microprocessor releases the insulin into the tubing. The insulin travels down the tubing and enters the user's bloodstream.
The biggest difference between CSII and traditional injections is that users no longer have to remember to take shots throughout the day. Instead, they simply insert a needle into their abdomen once per week and let the insulin flow continuously. Users who use CSII report feeling less stressed about managing diabetes and feel more confident in their abilities to manage their disease.
Why did insulin pumps become popular?
In the 1970s, people began to realize that the BBGT could be improved upon. People realized that if they could get the same results without having to prick themselves, they would be able to live healthier lives. In addition, patients reported that they felt more comfortable wearing the device than injecting themselves.
As a result, insulin pumps became increasingly popular. Dr. Robert Langer and Dr. James Collier worked together to develop the first commercially successful insulin pumps. They started working on the idea in 1974 after realizing that the BBGT had limitations. They wanted to find a way to make the BBGT easier to perform and more accurate. They eventually came up with the idea of attaching a cannula to the user's skin and connecting it to a reservoir filled with insulin.
Advantages of Insulin Pumps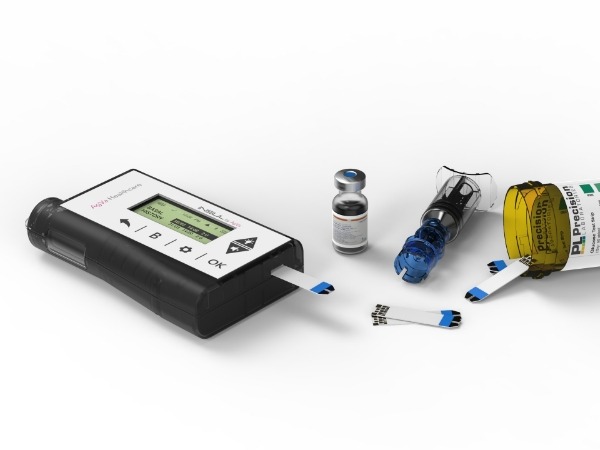 No need for multiple injections-

Insulin pumps do not require multiple injections throughout the day and are much more convenient than syringes and insulin pens. The cannula needs to be inserted just once every one to 3 days, depending on the patient's requirement and the size of the cartridge. 

They are more flexible-

Insulin pumps provide more flexibility to the user than syringes and insulin pens. Insulin pumps can be programmed to deliver insulin at specified times and can deliver small doses of insulin throughout the day.  This helps the user to perform their daily activities without any worry just like a normal person. Insulin pumps can also be programmed to deliver insulin differently when you are exercising. 

They are more accurate-

Insulin pumps are more accurate than other forms of insulin delivery. Blood sugar levels are more likely to be in your target range when you use an insulin pump since it acts as an artificial pancreas releasing insulin into your body slowly and steadily. People who use Insulin pumps report fewer highs and lows in blood sugar levels than users of syringes and insulin pens.

Better control over blood sugar and hemoglobin A1c levels-

Insulin pumps can deliver insulin according to the patient's needs. This allows them to have control over their blood sugar levels and hemoglobin levels by changing the insulin delivery according to their highs and lows. Insulin pumps offer a much more precise delivery to the users than insulin pens and syringes. 

Cost-effective in the long run-

While insulin pumps have a very high initial cost in comparison to other insulin delivery systems, they can turn out to be cost-effective in the long run because of their more precise delivery and management of sugar levels. It can be cost-effective by reducing the chances of long-term complications that are associated with diabetes.

Proper record of insulin usage-

Insulin pumps keep a proper record of your insulin usage history. Just like a computer, it has some storage space available to store data. You can see the history by looking up the menu on the insulin pump screen. This record helps you to understand how much insulin was given to you on which day and how you reacted to it. This data can also be uploaded to a computer and graphed for trend analysis. 

It has multiple smart features-

Insulin pumps have many smart features that you cannot get from other forms of insulin delivery systems such as alarms, bolus calculators, insulin alerts, etc. Modern-age insulin pumps can also be linked to mobile phones through an app. This can give you regular information about your insulin intake, the insulin pump itself, how sugar levels change in your body throughout the day, etc. 

Insulin pumps are small and compact-

Gone are the days when insulin pumps used to be large and protruding. Nowadays, they are very small and compact, similar in size to a mobile phone. Insulin pumps can easily be carried inside pockets, around the belt, and under clothes without being visible. Insulin pumps provide a discreet, convenient, and painless experience to diabetic patients.

Easier to handle sick days and intense workouts- Insulin pumps provide better management of blood sugar levels even on sick days and during intense workout sessions. Insulin pumps can be programmed to increase the insulin levels in the body during these activities to tackle them better.


Features of  Insulin Pumps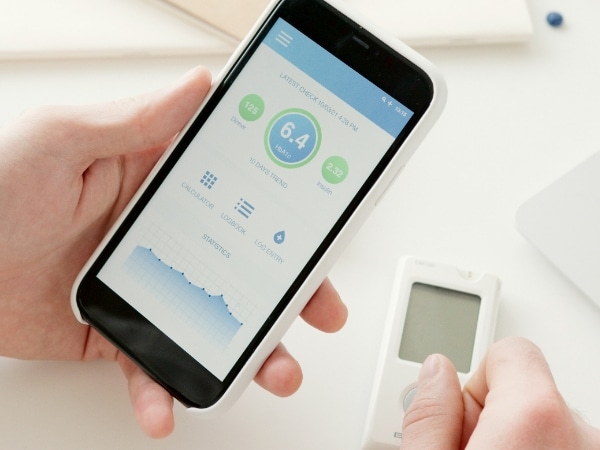 Insulin adjustment-

Some Diabetes Insulin Pumps have the smart feature of adjusting the amount of insulin entering your body depending on the needs of your body. These insulin pumps have a certain time duration between each adjustment. for example, every 5 to 10 minutes.

Different modes-

Nowadays, many insulin pumps come with different modes that can be selected such as auto mode and manual mode. In auto mode, the pump automatically adjusts the basal insulin every few minutes based on the continuous glucose monitoring reading of the patient in order to keep the sugar levels stable. In manual mode, the patient or the medical practitioner adjusts the basal insulin themself depending on their need.  

Alarms and alerts-

Diabetes

Insulin pumps come with various alerts and alarms that you can use to manage your diabetes. It gives alerts about your food needs, insulin intake, blood sugar levels, low battery alert, alert about the inability to deliver insulin, etc.

Internal memory-

Insulin pumps come with internal memory storage that can store insulin usage data of multiple days. This data can then be transferred to a computer to learn more about your insulin usage and patterns through various graphs and assessments.

Speed and increment programming-

Insulin pumps have the feature of programming the speed and increments of insulin according to your needs. In speed programming, you can select how many units of insulin will enter the body per minute. In increment programming, you can select the bolus increment of 0.025 units, 0.05 units, and 0.1 units.

Battery backup-

Since The insulin pump is a wireless technology, it has the feature of battery backup. Most insulin pumps are compatible with AAA or AA batteries. Some insulin pumps also have feature of rechargeable batteries.

Glucose meter compatibility-

All

Insulin pumps are compatible with continuous glucose monitoring which can be connected to the pump wirelessly. The Glucose meter sends readings to your pump about your glucose levels constantly. This allows you to be updated about your sugar levels at all times and helps keep it stable. 
Types of Insulin Pumps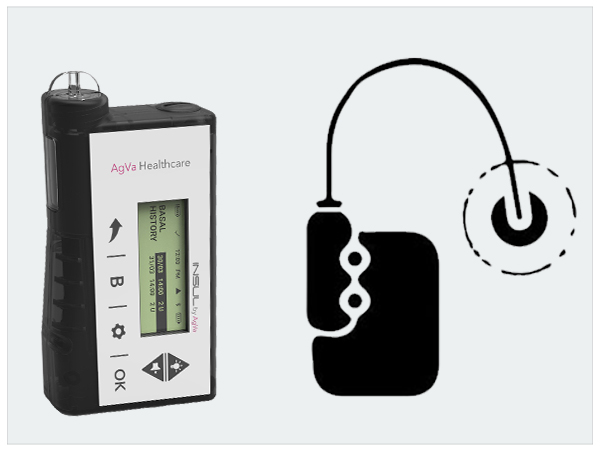 Tethered pump-

A tethered pump connects the body to the cannula through another small flexible tube. In tethered pumps, the controls are usually featured in the pump itself and the pump can be tucked under a pocket, worn over the belt, or carried inside the clothes in a pump pouch. Some tethered pumps may also have controls on a different device which may double up as a CGM.

Patch pump- A patch pump does not require any tubing to work. It is attached to the surface of the skin, usually on the abdomen. To make the pump as compact as possible, the controls of the pump are located on a separate remote control. This remote control may also double up as a blood glucose monitor. The pump is connected to the remote wirelessly and there are no tubes that might get in the way of daily activities. However, you still need to ensure that the pump does not get dislodged while doing activities. 
Implanted insulin pump-

As the name suggests, it is an insulin pump that is implanted inside the body and remains there at all times. An implanted insulin pump delivers insulin in the peritoneal cavity which has an abundant supply of blood vessels and thus, can absorb insulin very efficiently. While implanted insulin pumps are very advanced and provide better insulin delivery than other insulin pumps, it has many disadvantages such as needing to travel to France several times a year to refill the pump. Only a small number of patients use implanted insulin pumps worldwide. 

Closed-loop insulin pump- also referred to as an "artificial pancreas", Closed-loop insulin pumps are always connected to a continuous glucose monitor that sends feedback to the pump. The pump automatically adjusts according to the readings given by the glucose monitor. It is an advanced system that contains various algorithms and rules that respond to changing blood glucose levels and ensure that the blood glucose levels are stable. These pumps are still in the stages of development and will require some more years to become mainstream. 
Some popular brands of diabetes Insulin Pumps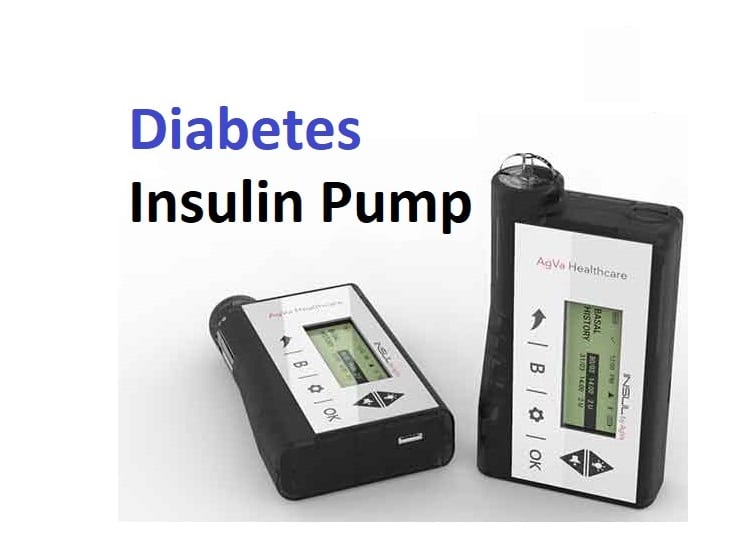 INSUL by AgVa –

AgVa Healthcare is an Indian company that manufactures medical equipment. Recently, AgVa Healthcare has developed a State of the art insulin pump called "

INSUL by AgVa

" and plans to sell it for a very competitive price of only 25 thousand rupees, one-tenth of the price of other international insulin pumps. INSUL by AgVa also comes with an insulin cartridge of 500 units that may last up to 2 weeks for most people.

Medtronic-

Medtronic is an American-Irish company that was founded in 1949 as a repair shop for medical equipment

.

It is the largest producer of Medical equipment and the biggest player in insulin pump production. It revolutionized the insulin pump industry with the production of Minimed 502 in 1983. It keeps developing new technologies for insulin pumps to make them more useful and efficient. 

Animas-

It was an American company that was founded by Katherine Crothall in 1996 specializing in making insulin pumps. It was acquired by the Johnson & Johnson company in 2006. It was one of the biggest producers of Insulin pumps and provided some of the most advanced pumps in the market. In 2017, Johnson & Johnson closed down the Animas corporation, and the customer database was sold to Medtronic.

Roche-

It is a Swiss multinational healthcare company That also produces insulin pumps. It was founded in 1896 as a producer of vitamin preparations and derivatives. Roche produces the Aviva combo and Accu check which are very compact and well-developed insulin pumps.

Tandem-

Very popular in the United States, Tandem is a new-age insulin pump maker that produces the Tandem t: slim X2 and t: flex. They produce high-quality and youth-focused designs and technology. However, they haven't yet gained popularity outside the United States.

Omnipod-

Omnipod produces patch pumps that provide consistent insulin delivery to the patient. It makes waterproof and compact devices that are easy to carry by the user. Omnipod is the only tubeless insulin pump that is easily available in the market as of now. 
FAQs about Diabetes Insulin pumps
What is a Diabetes insulin pump and how does it work?
An Insulin pump is a compact electronic device that is used for delivering insulin to the body in order to manage blood sugar levels. It works by inserting a cannula in the body that is connected to the insulin pump through a tube or wireless connection. The pump then controls the delivery of insulin in the body. 
What are the risks when using Diabetes pump therapy?
The risks associated with using an insulin pump are pump failure, insulin infusion blockage, user error, skin infections, and Ketoacidosis. 
Why would someone need a Diabetes insulin pump?
People suffering from type 1 diabetes require constant insulin delivery to function properly and insulin pumps provide consistent insulin delivery to the patient without the need for multiple injections. 
Who is eligible for a Diabetes insulin pump?
Insulin pumps are more suited for type 1 diabetes patients that have a hard time managing their blood sugar levels, live an active lifestyle, and have A1C levels greater than 7%. 
Is an insulin pump better than injections?
Insulin pumps and injections have different advantages. Insulin pumps do not require multiple injections throughout the day and provide consistent insulin delivery to the patient. However, injections are still the cheaper option of the two. 
Does a Diabetes pump hurt?
Insulin pumps can hurt when you insert the cannula in your stomach and also when the tubing gets pulled by latching onto something. 
How do you sleep with an insulin pump?
You can sleep with an insulin pump by putting it in your pillow, a special pouch, or even in your clothes or underwear. 
Who is not suitable for an insulin pump?
It is not suited for people who are prone to skin infections, do not have many highs and lows in blood sugar, and are conscious about carrying a piece of hardware around their body all the time.
Can you shower with an insulin pump?
Even though some insulin pumps are waterproof, you should avoid setting them directly in water. All insulin pumps have a disconnect feature that patients can use while showering and remove the insulin pump for the duration of the shower. 
Does a Diabetes pump require surgery?
Insulin pumps do not require any kind of surgery. A cannula needs to be inserted inside the body once in a while and it delivers insulin from the pump consistently. Insulin pumps can easily be operated by the patient and their caregivers. 
What is the average cost of an insulin pump?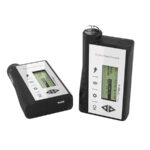 An insulin pump costs around $6,000 or around Rs. 4,50,000 initially and the annual supplies can cost anywhere from around 2 lakh rupees to 4.5 lakh rupees. However, INSUL by AgVa costs only around 25 thousand rupees which is one time, and the annual disposable cost for INSUL by AgVa is just 13 thousand rupees.
Does an insulin pump check blood sugar?
Insulin pumps can check blood sugar levels by being connected to a continuous glucose monitor that gives constant blood sugar readings to the pump. 
Where do you place an insulin pump?
Insulin pumps are usually connected to the stomach and placed over the belt, under the clothes, and inside the pant pocket.
How is a Diabetes pump installed?
Insulin pumps are installed by inserting the cannula inside the stomach. The cannula is connected to the pump by a tube or wirelessly and the pump controls the administration of insulin inside the body. 
How long is an insulin pump?
Insulin pumps are the size of a mobile phone and can be easily carried by the patient. Some insulin pumps such as patch pumps are very compact and can be controlled wirelessly. 
Is a Diabetes insulin pump safe?
Insulin pumps are usually safe but there are some problems such as software malfunction, infusion blockage, skin infections, etc that can occur while using an insulin pump.
Do insulin pumps work automatically?
Many insulin pumps nowadays come with an automatic mode and a manual mode. In automatic mode, the insulin pump automatically adjusts the insulin dosage according to the patient's needs. 
What is the most serious disadvantage of diabetes insulin pump use?
The most serious disadvantage of using an insulin pump is the possible risk of Ketoacidosis in which the body produces high levels of blood acids called ketones. 
Does the insulin pump make you gain weight?
Insulin pumps do not make you gain weight. However, Insulin intake makes you gain weight and since insulin pumps use a higher basal dosage than injections, it can indirectly make you gain weight.
Do you sleep with a Diabetes insulin pump?
You should sleep with an insulin pump to manage Nocturnal Hypoglycemia. Nocturnal Hypoglycemia is a condition in which the person suffers from low blood glucose while sleeping. Sleeping with an insulin pump will ensure proper glucose delivery and management at night.