Hyperglycemia and Hypoglycemia: The Ultimate Difference Guide!
Hyperglycemia and Hypoglycemia in Diabetes: 
Hyperglycemia and Hypoglycemia both are serious conditions that happen at any age. Hypoglycemia in humans occurs when blood glucose levels are too low, whereas hyperglycemia can occur when blood sugar is high. In both cases, patients may experience symptoms ranging from mild dizziness to loss of consciousness.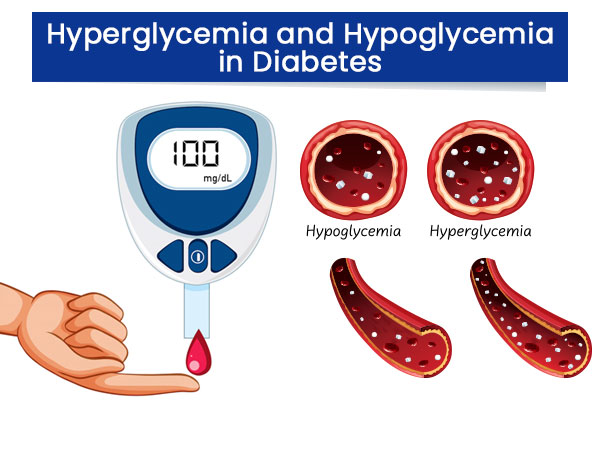 If left untreated, these conditions can lead to serious complications including coma and even death. Therefore, proper treatment of diabetes mellitus must be administered at the earliest opportunity. Let us dive deep into the basic difference between Hyperglycemia and Hypoglycemia.
What is hyperglycemia?
Hyperglycemic condition is often referred to as high blood sugar levels. This can happen naturally due to various causes or induced artificially through medication. In either case, it usually indicates that the body is not processing glucose at normal rates. This could be due to stress, excessive exercise, or too little sleep. 
Also Read: 6 Best Tips to Control Blood Sugar Level Naturally for Type 2 Diabetes
What is hypoglycemia?
Hypoglycemia is a common condition that can affect people at any age. It generally occurs if someone has diabetes, but it may happen even without having diabetes. Hypoglycemia happens when blood sugar levels drop below normal levels. This usually happens when your body doesn't make enough insulin. If you do not treat this problem, you could have serious health issues like seizures, confusion, coma, etc. It requires immediate medical help.
The various causes of Hyperglycemia and Hypoglycemia:
Causes of hyperglycemia:
Hyperglycemia happens due to many factors including genetics, diet, stress, illness, and medications. In this article, we discuss some of the causes of Hyperglycemia and how they affect your body. You are taking an insufficient dose of insulin or oral diabetes medications. Your treatment may include taking steroids for another reason.
Causes of hypoglycemia:
Hypoglycemia can happen if you are not eating enough food, have diabetes, or take certain medications. Hypoglycemia may cause symptoms like sweating, shakiness, headache, nausea, and confusion. Diabetes and Cushing's syndrome are endocrine disorders that cause insulin resistance. Various pancreatic diseases, such as pancreatitis, pancreatic cancer, and cystic fibrosis, affect the pancreas. 
What are the symptoms of Hyperglycemia and Hypoglycemia?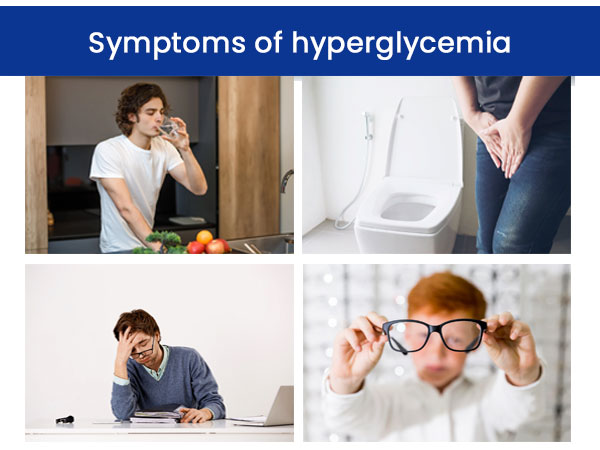 This condition may cause Hyperglycemia
Increased thirst

Fatigue

Blurred vision
If left untreated, this condition can lead to serious complications including dehydration, coma, and even death.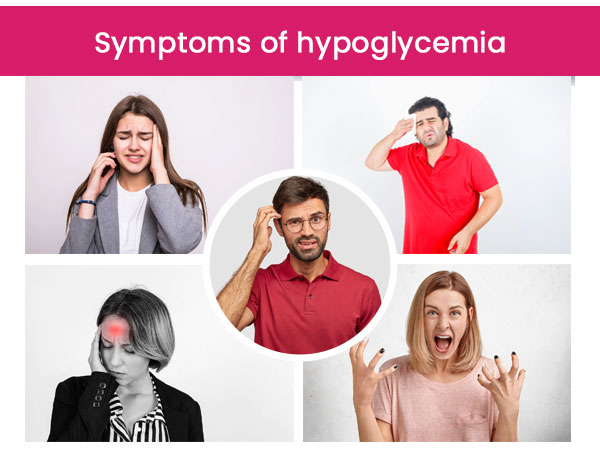 This condition may cause Hypoglycemia
Dizziness

Sweating

Headache

Irritability

Confusion

Weakness

Hunger

Nausea

Shakiness

Palpitations

Anxiety and even seizures
If you have diabetes, you may experience these same symptoms but at higher levels.
How to treat Hyperglycemia and Hypoglycemia?
Treatment of hyperglycemia:
To treat hyperglycemia, eat foods rich in carbohydrates like fruits, vegetables, whole grains, and legumes.
Try to avoid sugary drinks and sweets.

Eat small meals frequently throughout the day.

Take your medication at regular intervals.

Drink plenty of water.

Avoid alcohol and caffeine.

Exercise regularly.
Treatment of hypoglycemia:
To treat hypoglycemia, eat foods low in carbohydrates.
Have a snack containing protein and fat before going to bed.

Get out of bed slowly and walk around.

Do not skip meals.

Take your medication at scheduled times.

Avoid alcohol and caffeine, and limit your intake of sugary drinks.
Prevention measures one can take for Hyperglycemia and Hypoglycemia:
When Hyperglycemia happens, the body produces excess glucose from its reserves. This condition is usually temporary and does not require any treatment. However, if the level of glucose remains elevated for longer than two weeks, then it becomes a serious health concern. Hypoglycemia on the other hand occurs when the blood sugar level drops below normal. This condition is dangerous because it affects the brain and other organs. 
Prevention of hyperglycemia:
Exercise is the best way to prevent diabetes. Regular exercise can help lower blood glucose levels and reduce insulin resistance. This helps to keep your body healthy and prevents diabetes from developing.

A diet rich in

whole grains, fruits, vegetables, legumes, nuts, seeds, fish, poultry, and low-fat dairy products

is effective at preventing hyperglycemia.

Being overweight increases the risk of diabetes. If you are already diabetic, losing weight may help control your blood sugar level.

The consumption of carbohydrates can cause blood sugar levels to rise rapidly. This is especially true if the carbohydrate intake exceeds the body's ability to metabolize them. When this happens, glucose accumulates in the bloodstream, causing an increase in insulin secretion. Insulin is a hormone that helps regulate blood sugar levels by promoting the storage of glucose in cells. However, when insulin levels are too high, they can lead to excessive fat accumulation, particularly around the belly area.

Eating small frequent meals throughout the day helps prevent spikes in blood sugar levels. If your blood sugar level rises after eating, then you may experience symptoms like

fatigue, headaches, dizziness, and irritability

. You should try to eat at least three times per day, but no more than six. Try to avoid snacking between meals.

Eating a diet rich in whole grains, fruits, vegetables, and lean protein sources can help reduce the risk of diabetes. Foods that contain fiber, vitamins, minerals, and antioxidants have been shown to lower the risk of developing type 2 diabetes.
Prevention of hypoglycemia: 
The following tips can help prevent hypoglycemia:
Eat foods high in carbohydrates before bedtime. Try eating a small snack before going to sleep. Instead, have a light meal about two hours before bedtime.

Avoid alcohol. Alcohol lowers the amount of insulin produced by the pancreas.

Keep hydrated. Drink plenty of water throughout the day.

Exercise regularly. Regular exercise helps keep your muscles strong and healthy.

Try to drink plenty of water while you're awake. Drinking enough water helps your kidneys flush out toxins that cause low blood sugar.
Complications of Hyperglycemia:
Hyperglycemia can cause damage to many organs including the eyes, kidneys, heart, nerves, skin, blood vessels, and brain. This condition can lead to blindness, kidney failure, stroke, amputation, coma, and death. The acute hyperglycemic crisis is a life-threatening medical emergency. 
Symptoms include extreme thirst, fast breathing, cold/clammy skin, pale lips and tongue, blurred vision, loss of consciousness, seizures, and unconsciousness. Chronic hyperglycemia is a long-term condition that requires constant monitoring and treatment. Symptoms include frequent urination, excessive thirst, fatigue, weight gain, blurry vision, slow healing, and dry mouth.
Complications of Hypoglycemia:
Low blood sugar levels can be dangerous and cause problems like seizures, loss of consciousness, and death. People with low blood sugar can also fall or have accidents because the condition can make them feel shaky and dizzy which can lead to accidents.
Concluding on Hypoglycemia and hyperglycemia: The key differences
Our blood has sugar in it, and this sugar helps our brains work well. However, if there is too much or too little sugar in our blood, it can cause problems with our health. Hyperglycemia and hypoglycemia are two conditions that can cause problems if not treated. 
Both of them are treated differently and have different symptoms. They can't be prevented completely, but their symptoms can be managed. This means that if you have either of these conditions, you can get your blood sugar back to normal.