Meditation- How to perform it, its types and benefits
What Is Meditation?
Meditation is an ancient relaxing technique that is performed in order to bring awareness, be calm and improve attention. It is carried out to improve mental health and awareness of our consciousness. Meditation has its roots in South Asia. It was practised by ancient Hindu and Buddhist sages. Today, Various types of meditation have developed around the world but all of them have their origin in the traditional form of meditation practised.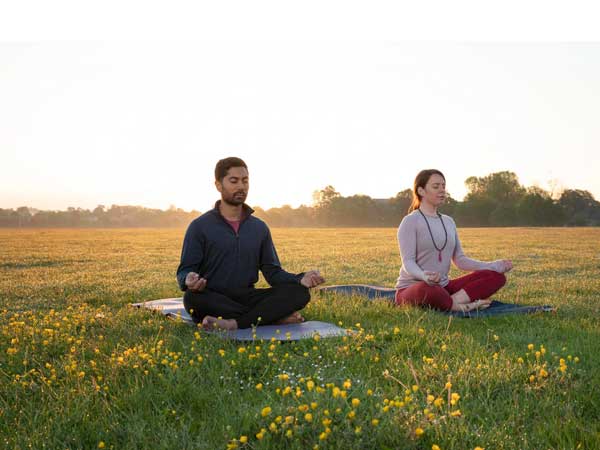 Meditation can significantly reduce depression, anxiety, anger and stress. It also enhances peace of mind and self-reflection. Multiple research has been conducted on the benefits of meditation and is still being carried out. 
How to perform meditation
To perform meditation most effectively you need to follow some steps. 
Step 1- Sit or lie down in a peaceful location. It can be inside as well as outside the house. Most people usually sit cross-legged but this is not a prerequisite. 
Step 2- Set a timer at the beginning of meditation. This helps you keep disciplined and focused during your session.
Step 3- Focus on your body. Feel the movement of the chest and stomach when you inhale and exhale. Try focussing on the pressure around the body- where your body touches the ground or chair.
Step 4- Focus on your breath as you exhale and inhale. Focus on the air moving through your lungs and how it makes you feel.
Step 5- Acknowledge when your mind wanders. Try bringing your focus back on your breath and movements in the body. Be kind and congratulate yourself for noticing that the mind has wandered and then bringing it back into focus.
Also read: Importance of Doing Yoga | Benefits of Yoga
Some tips for Meditating effectively
Create a weekly schedule of meditating and following through with it. Try to determine the timing that is the most suitable for you. 

Find a peaceful place around your house or outside. Someplace you feel comfortable. Meditate every day at the same spot

Meditate with others. It creates discipline and improves focus.

Meditate by listening to a recording of chants or white noise if you don't have a group of people to practice with

The position doesn't matter. Sit or lie down in a position you are most comfortable with

Forgive yourself for losing focus and do not get unhappy if someday you don't feel as stress-free as you usually do.
Also read: Yoga For hypertension: Do these 5 yogasanas every morning with high BP
Types of meditation
Mindfulness– It is the most popular form of meditation. In mindfulness, you have to focus on the present- your current feelings and sensation. Mindfulness asks you to be aware of your current state.
Spiritual Meditation- It is a religious form of meditation that involves focusing deep inside your spirit and the spirit of the world. It brings focus to a higher power and involves the use of chants for focus.
Movement meditation- It is a form of meditation which you perform while doing some movement and focusing on these movements. Forms of movement meditation are hatha yoga and tai chi.
Mantra chanting- It is a religious form of meditation. In mantra chanting, you have to chant a particular mantra and keep repeating it for the whole duration. The most common mantra is "Om".
Body scan meditation- Rather than peace of mind, Body scan focuses on bringing awareness to the tension and sensation in the body. It aims at making you aware of every part of your body. 
Loving-kindness meditation- It focuses on building kindness and love. It involves meditating and focusing on your loved ones and giving love to yourself. It also involves forgiving people who have wronged you.
Visualisation- It involves focusing on some image while you take deep breaths. The image can be anything that you like. It can be a person that you love, a place you want to go to, a different reality etc.
Also read: Mental health • Depression • Anxiety
Benefits of Meditating
It can reduce stress levels

Reduce anger and improves thoughtfulness

It reduces negative emotions

It can improve memory, imagination and overall brain health

It may make you more tolerant 

It may help alleviate high blood pressure 

It can help reduce anxiety and depression 

Improves attention

It may improve the quality of sleep

It can be performed anywhere and is not very time consuming

It improves self-awareness and makes you more accepting of yourself